>> Cherry Blossom Viewing at the Tokyo National Museum
Cherry Blossom Viewing at the Tokyo National Museum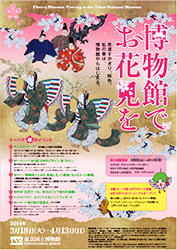 Come enjoy the fantastic cherry blossom at Tokyo National Museum!
"Cherry Blossom Viewing at the Tokyo National Museum" is an annual event that coincides with the spring opening of the Museum Garden (Saturday, March 8 – Sunday, April 13, 2014). There are many artworks featuring cherry blossom on display in the galleries, as well as a host of events including gallery talks, haiku poetry gatherings and concerts.

In the Museum Garden, over ten species of cherry tree blossom one after another. During this period the garden is quietly popular as a "cherry blossom spot for adults", a place where visitors can escape the bustle of Ueno Park to admire the flowers in peace.

Cherry blossom in a secret garden, together with cherry blossom in ancient and modern masterpieces. Come and enjoy the world's most exquisite cherry blossom in this storehouse of Japanese art.
Cherry Blossom in the Galleries Major Works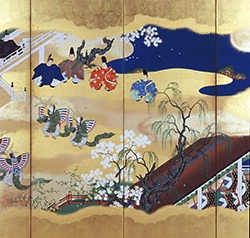 Scenes from the Tale of Genji, Kocho ("Butterflies") Chapter (detail)
By Kano Seisen'in (Osanobu), Edo period, 19th century
Honkan Room 8
February 25 - April 20, 2014

The right screen features the Eawase chapter of The Tale of Genji, portraying a painting debate between Umetsubo and Kokiden, consorts of Emperor Reizei. In the Kocho chapter on the left screen, Umetsubo (Crown Princess Akikonomu) performs a spring Buddhist ritual. By the signature and seal, this work can be dated between 1819 and 1834, when Kano Osanobu was assigned the Hogen rank.
Cherry-blossom Viewing (detail)


By Sumiyoshi Gukei, Edo period,
17th century (Gift of Mr. Nishiwaki Kenji)
Honkan Room 8
February 25 - April 20, 2014

Bowl, Cherry tree design in overglaze enamel and openwork


By Ninnami Dohachi, Edo period, 19th century
Honkan Room 13
March 4 - May 25, 2014

Kosode (Garment with small wrist openings), Double cherry blossom, horsetail, dandelion and swallow design on red figured satin ground


Edo period, 19th century
Honkan Room 10
February 25 - April 20, 2014
More information
Finding Cherry Blossom in the Japanese Gallery (Honkan)
Stamp Rally
During this period, we are holding a stamp rally based on artworks that feature cherry blossom. Visitors who collect all five stamps will be eligible to receive an original pin-back button.
For more information about other events, please see "Related Events" below.
Date
March 18, 2014 (Tue) - April 13, 2014 (Sun)
Time
9:30~17:00
From March 28, Fridays until 20:00, Saturdays, Sundays, and holidays until 18:00 (Last entry 30 minutes before closing)
Related Events
---

March 19, 2014 (Wed) 14:00 - 14:30


March 26, 2014 (Wed) 14:00 - 14:30


March 29, 2014 (Sat)


March 30, 2014 (Sun) 14:00 - 14:40


April 2, 2014 (Wed) 14:00 - 14:30


April 9, 2014 (Wed) 14:00 - 14:30


April 11, 2014 (Fri) 11:00 - 11:40 "Cherry Blossom Viewing at the Tokyo National Museum" Version


March 8, 2014 (Sat) - April 13, 2014 (Sun) 10:00 - 16:00