Accessibility Information
Disabled persons with one helper or attendant may visit the museum free of charge.
・Please exhibit your physical disability certificate or booklet at the entrance.
・There is no need to stop at the ticket booth.
Access map by words: from Ueno station to Tokyo National Museum
・This is an access map for visually-impaired visitors. The way to get to Tokyo National Museum from Ueno station is explained by words.
Click to here 
Barrier-free accessibility in TNM and galleries
・Explanation of barrier-free condition and accessibility information on a map.
Download all maps(

PDF, 3.4MB)
The Honkan's Tactile Map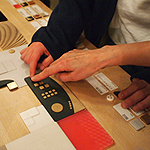 ・In the educational space in Room 19 on the first floor of the Honkan, there is a tactile map of the Honkan that visitors use by feeling with their hands. Through the sense of touch, the map conveys the typical characteristics, materials and production techniques of objects in each of the exhibition rooms. It is also suitable to be used by visually impaired visitors.
The map is further introduced in an entry on the museum's blog, "
Touch and Enjoy: Debut of the Honkan's Tactile Map
"(in Japanese)
Wheelchairs
・Parking spaces for visitors with disabilities are available; please ask a museum staff member (parking facilities for the general public are not available).
Assistance dogs
・Guide dogs, service dogs, and hearing assistance dogs are permitted in the museum.
Ostomate facilities


・There are ostomate facilities (for those with colostomies or urostomies) in the accessible restrooms on the basement of the Honkan, first floor of the Heiseikan and Toyokan and Main Gate Plaza.

Visitors with young children
・Tables for changing diapers are located in restrooms in the Honkan, Heiseikan, Toyokan, the Horyuji Treasure Gallery and Main Gate Plaza .
・Nursing mothers may use the medical aid rooms in the Honkan, Heiseikan, Toyokan and Main Gate Plaza.
・In crowded conditions such as those during special exhibitions, we may ask you to refrain from using baby carriages or strollers (they will be held in storage while you are viewing the exhibits). We appreciate your cooperation.
Aid Station
・Please inform a staff member. We will direct you to the medical aid rooms in the Honkan, Heiseikan and Toyokan.
AED (Automatic External Defribillators)


・AEDs are medical devices to treat cardiac arrhythmia by applying electrical currents to the heart. The devices are located at the entrances to the Honkan, Heiseikan, Hyokeikan, Horyuji Treasure Gallery and Main Gate Plaza.