>> Kimono: Fashioning Identities International Symposium"Revisiting the Role of the Kimono in Japanese Culture"
Kimono: Fashioning Identities International Symposium
"Revisiting the Role of the Kimono in Japanese Culture"
The in-person KIMONO: Fashioning Identities international symposium was canceled due to COVID-19.
Instead, video presentations by the keynote speaker and five panelists are being presented online with Japanese and English subtitles for Japanese and international audiences.
*International Symposium videos tentatively scheduled to remain online until March 31, 2023.
| | |
| --- | --- |
| | Moderator Melissa M. Rinne, Specialist, Kyoto National Museum |
■PROGRAM
Keynote speech Kimono: Expressions of Tradition and Ingenuity
Kirihata Ken, Curator Emeritus, Kyoto National Museum

Presentation 1 Reflections on the Exhibition Kyoto Style: Trends in 16th-19th Century Kimono, Twenty Years Later
Kawakami Shigeki, Professor, School and Graduate School of Humanities, Kwansei Gakuin University

Presentation 2 Kimono: Bridging Fashion and Decorative Arts
Oyama Yuzuruha, Curator of Japanese and Asian Textiles, Tokyo National Museum

Presentation 3 Kosode to Kimono: Highlights of two exhibitions organized by The Los Angeles County Museum of Art
Sharon S. Takeda, Senior Curator and Department Head of Costume and Textiles, Los Angeles County Museum of Art

Presentation 4 Exhibiting Kimono at The Metropolitan Museum of Art
Monika Bincsik, Diane and Arthur Abbey Associate Curator for Japanese Decorative Arts, The Metropolitan Museum of Art

Presentation 5 Kimono: Kyoto to Catwalk
Anna Jackson, Keeper, Asian Department, Victoria and Albert Museum
▼Download the SYMPOSIUM PROGRAM (PDF) with presentation abstracts and speaker profiles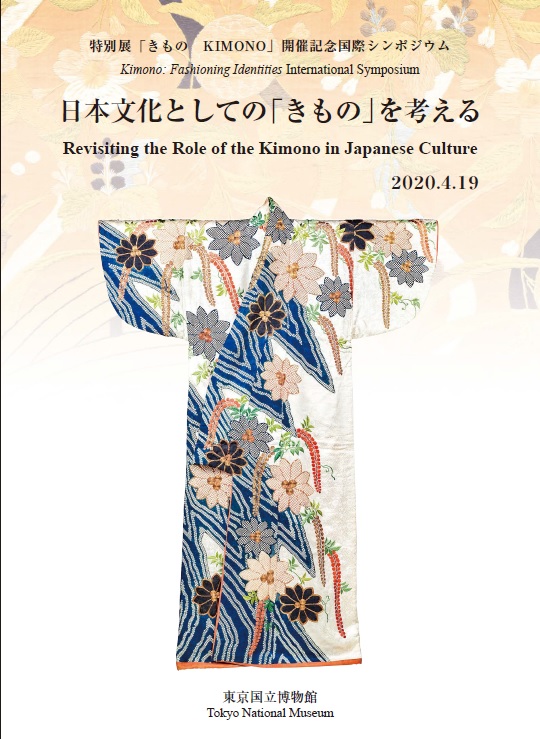 The symposium program was produced before the onset of the COVID-19 pandemic. Some elements of the program may have changed. Thank you for your understanding.
Date
February 26, 2021 (Fri) - May 31, 2021 (Mon)
Related Exhibition
---

June 30, 2020 (Tue) - August 23, 2020 (Sun)