>> Springtime opening of the Museum Garden
Springtime opening of the Museum Garden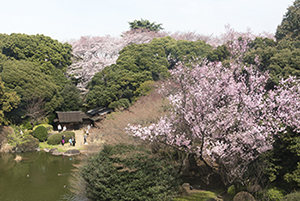 The Museum Garden behind the Honkan main building is open during the spring. We invite you to enjoy strolling among the five teahouses, each with their own history, as well as the cherry blossoms, which about 10 varieties bloom from one to another. The flourishing garden is most beautiful at this time of the year.
We celebrate this spring with opening dates extended than usual.
The garden is illuminated until 19:30 on the following Fridays and Saturdays: March 31, April 1, 7, and 8.
To coincide with the special exhibition
Chanoyu, The Arts of Tea Ceremony, the Essence of Japan
, the interior of the teahouse Tengoan can be viewed from outside the building, from Tuesday, April 11 to Sunday, May 7, 2017 (excluding Saturday, April 15 and Sunday, April 30).
Date
March 14, 2017 (Tue) - May 7, 2017 (Sun)
Time
10:00 - 16:00 *March 31, April 1, 7, and 8, open until 19:30
Where to enter
The garden entrances are located on either side of the Honkan.
(1) Between the Honkan and the Toyokan, beside the restaurant "Yurinoki".
(2) Between the Honkan and the Heiseikan.
Admissions
Free with regular museum admission fee
Cafe
MOTOYA EXPRESS
Please relax with coffee.
*March 31, April 1, April 7, and April 8 will open until 18:00.
*Last order 15 minutes before closing.
*It will be closed when the garden is closed.
Notes
Please note that the garden will be closed at times of bad weather.
It may also be closed due to conditions caused by the weather.
Please check for notices at the main gate.
Related Exhibition
---

March 14, 2017 (Tue) - April 9, 2017 (Sun)


Related Events
---

March 14, 2017 (Tue) - April 9, 2017 (Sun) 9:30-17:00 * Fridays and Saturdays on March open until 20:00, Sundays on April open until 18:00
* April 1, April 7 and April 8, open until 21:00 (Last entry 30 minutes before closing)