>> Cherry Blossom Viewing at the Tokyo National Museum
Cherry Blossom Viewing at the Tokyo National Museum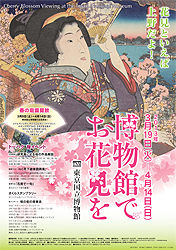 Come enjoy the fantastic cherry blossom at Tokyo National Museum!

"Cherry Blossom Viewing at the Tokyo National Museum" is an annual event that coincides with the spring opening of the Museum Garden (Saturday, March 9 – Sunday, April 14, 2013). There are many artworks featuring cherry blossom on display in the galleries, as well as a host of events including gallery talks, haiku poetry gatherings and concerts.

In the Museum Garden, over ten species of cherry tree blossom one after another. During this period the garden is quietly popular as a "cherry blossom spot for adults", a place where visitors can escape the bustle of Ueno Park to admire the flowers in peace.

Cherry blossom in a secret garden, together with cherry blossom in ancient and modern masterpieces. Come and enjoy the world's most exquisite cherry blossom in this storehouse of Japanese art.
Cherry Blossom in the Galleries Major Works
Merrymaking Under Blossom Trees

(detail)
By Kano Naganobu
Edo period, 17th century
National Treasure
Honkan Room 2
March 19 - April 14, 2013

Set of Five Dishes, Cherry tree design in overglaze enamel


Nabeshima ware
Edo period, 18th century
Honkan Room 8
March 26 - June 23, 2013

Furisode (Garment with long hanging sleeves) Cherry blossom and stream design on red chirimen crepe ground


Formerly used by Bando Mitsue
Edo period, 19th century
Gift of Ms. Takagi Kiyo
Honkan Room 9
February 26 - April 21, 2013
More information
Finding Cherry Blossom in the Japanese Gallery (Honkan)

Stamp Rally
During this period, we are holding a stamp rally based on artworks that feature cherry blossom. Visitors who collect all five stamps will be eligible to receive an original pin-back button.
For more information about other events, please see "Related Events" below.
Date
March 19, 2013 (Tue) - April 14, 2013 (Sun)
Time
9:30 - 17:00
Saturdays, Sundays, and holidays in April until 18:00, All Fridays during this period until 20:00 (Last entry 30 minutes before closing)
Admissions
Adults: 600 (500) yen
University Students: 400 (300) yen
High/Junior High/Elementary School Students and persons under 18 and over 70: Free

* ( ) indicate prices for those in groups of 20 or more.
* Special exhibitions require a separate admission fee.
* Persons with disability and one person accompanying them are admitted free of charge.
* Regular admission is free for persons under 18 and over 70. Please show proof of age (driver's license, passport, etc.) when entering.
* Group rates for regular exhibition apply to adults and students (up to two persons per child) accompanied by children (High school students and younger)
Organizer
Tokyo National Museum
With the assistance of
Ueno Shop Curtain Meeting
General Inquiries
03-5405-8686 (Hello Dial)
Related Exhibition
---

March 19, 2013 (Tue) - April 14, 2013 (Sun)


March 19, 2013 (Tue) - April 14, 2013 (Sun)


Related Events
---

March 22, 2013 (Fri) 11:30 - 12:30


March 27, 2013 (Wed) 11:05 - 11:35


March 27, 2013 (Wed) 10:30 - 11:00


March 29, 2013 (Fri) 14:00 - 15:00


March 30, 2013 (Sat) 13:30 - 14:30


April 3, 2013 (Wed) 11:05 - 11:35


April 3, 2013 (Wed) 10:30 - 11:00


April 6, 2013 (Sat) 13:30 - 15:00


April 9, 2013 (Tue) 14:00 - 14:30


April 10, 2013 (Wed) 11:05 - 11:35


April 10, 2013 (Wed) 10:30 - 11:00


March 9, 2013 (Sat) - April 14, 2013 (Sun) 10:00 - 16:00