>> 【Cancelled】Experience Japanese Culture: Making The Great Wave: A Demonstration of Japanese Woodblock Printing
【Cancelled】Experience Japanese Culture: Making The Great Wave: A Demonstration of Japanese Woodblock Printing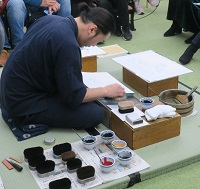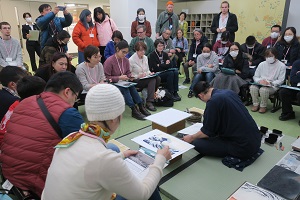 From a past demonstration
This event has been cancelled due to concerns over the potential spread of the coronavirus disease COVID-19.
The Great Wave is the world-renowned seascape created by Katsushika Hokusai. This ukiyo-e is not a painting, but a polychrome woodblock print that was made through the collaboration of three skilled artisans: Hokusai, the artist who created the master drawing; a carver who transferred the master drawing to the woodblocks; and a printer who created the final image with the woodblocks. This elaborate process and its techniques were passed down through the generations, with this event presenting a rare opportunity to see the last step of the process, in which the ukiyo-e artwork is printed.

・This performance will be conducted in Japanese and English.

Demonstration by The Adachi Foundation for the Preservation of Woodcut Printing
You can watch the video of last year's demonstration here.
Thirty-six Views of Mount Fuji: The Great Wave off the Coast of Kanagawa
By Katsushika Hokusai (1760-1849)
Edo period, 19th century

This picture is from a series of forty-six prints of Mount Fuji by the world-famous ukiyo-e artist Katsushika Hokusai. It shows a view off the coast of the post-station town of Kanagawa (now the city of Yokohama), with Mount Fuji in the distance. The mountain appears tiny in the background behind the sweeping curve of the wave, emphasizing the wave's immense size.

*The Great Wave will not be on display during the event.
Date
March 29, 2020 (Sun)
Time
(1)11:00-12:30
(2)14:00-15:30
Venue
Japanese Gallery (Honkan)-B1 Education Room

Reservations
: On the day of this event, reservations may be made at the Entrance Hall of the Honkan (Japanese Gallery) from (1)10:30/(2)13:30 on a first-come, first-served basis.
Capacity
: Maximum 60 persons per session (including standing area)
Admission
: Free admission with a ticket to the museum
Cooperation
: The Adachi Foundation for the Preservation of Woodcut Printing
For inquiries contact
: Education Programming, Tokyo National Museum (edu_tnm@nich.go.jp)