>> VR program "The Scrolls of Frolicking Animals from A to Z!"
Past TNM & TOPPAN MUSEUM THEATER
VR program "The Scrolls of Frolicking Animals from A to Z!"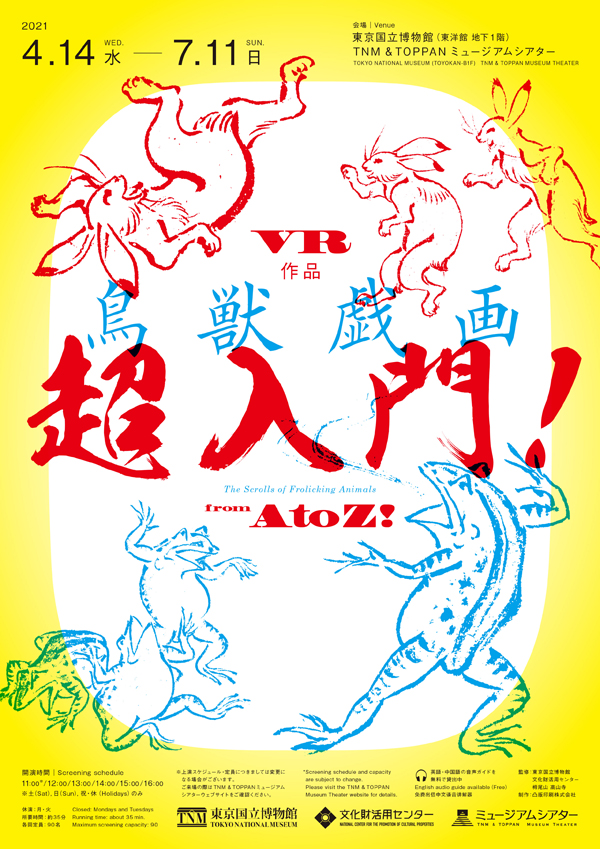 Want to Know More? Introduction to the World of Frolicking Animals!
At the beginning of the Kamakura period (13th century), a Buddhist priest named Myoe restored Kosan-ji in the mountains of Kyoto. A set of handscrolls painted over 800 years ago was passed down at this tranquil mountain temple, and is now a National Treasure known as The Scrolls of Frolicking Animals. This VR focuses on the first of the four extant scrolls, and provides detailed and easy-to-follow explanations of the miraculous world of animals unfolding vividly with the flow of the scroll.
Website: TNM & TOPPAN Museum Theater

* English audio guide available (Free)
* You may not enter mid-way through the program.
* Screening schedule and capacity are subject to change.
Date
April 14, 2021 (Wed) - July 11, 2021 (Sun) (Every Wed,Thu,Fri,Sat,Sun,Holiday)
Time
[Wed, Thu, Fri] 12:00、13:00、14:00、15:00、16:00
[Sat, Sun, Holidays] 11:00、12:00、13:00、14:00、15:00、16:00
Venue
Asian Gallery (Toyokan)-TNM & TOPPAN Museum Theater

Running time
about 35 min.
Capacity
48
*Seating capacity has been reduced to prevent the spread of COVID-19.
Fee
High school students and above: 600yen
*Regular admission fees apply to persons over 18 (excluding high-school students) and under 70.
Elementary and junior high school students: 300yen
Pre-school children and persons with disability and one person accompanying them: Free
*All visitors must make an online reservation for admission.
Ticket purchase
At the theater entrance
*Admission at the front of the theater ends at screening time.
Supervision of
Tokyo National Museum/The National Center for the Promotion of Cultural Properties/Togano-o Kosan-ji Temple
Production of
Toppan Printing Co.,Ltd.
Inquiries
050-5541-8600(Hello Dial)