>> VR program "Folding Screens of Scenes in and around Kyoto, Funaki version"
Past TNM & TOPPAN MUSEUM THEATER
VR program "Folding Screens of Scenes in and around Kyoto, Funaki version"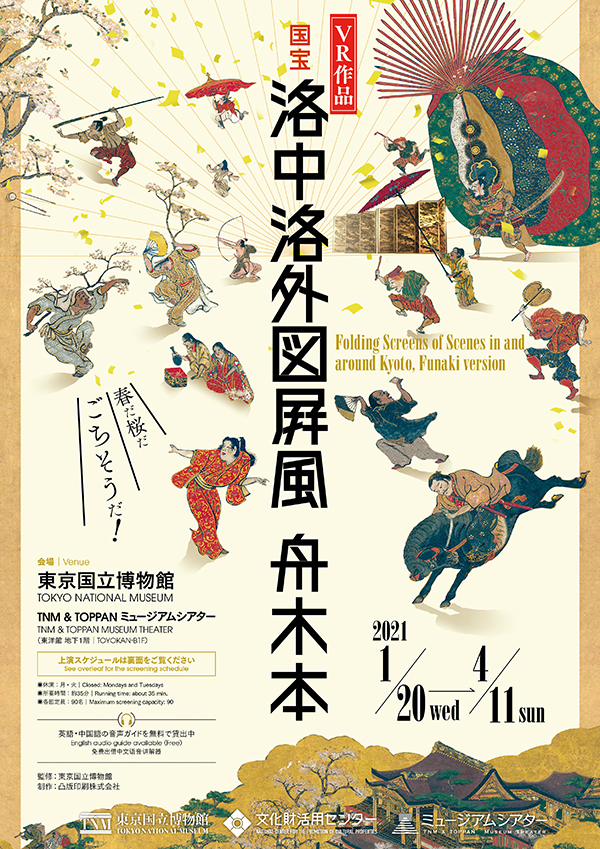 See the culture and life of the old capital like never before! Even art experts are amazed at the vivid details, many of them visible here for the first time.
Named after the family in Shiga Prefecture who originally handed down this pair of screens, Folding Screens of Scenes in and around Kyoto (Funaki version) is now one of the National Treasures owned by the Tokyo National Museum. This pair of sixpanel folding screens shows the city of Kyoto as it was just before the Toyotomi clan fell during the Siege of Osaka (1615). As many as 2,500 people from all social classes are vividly presented as they engage in lively activities across different areas of the city.
See the world of the old capital as it was four hundred years ago, stunning details that are difficult to make out when viewing the piece in person. Sitting areas for enjoying cherry blossoms, nested boxes, and the kitchen area at Nijo Castle are among the engaging food-related highlights faithfully reproduced in this high-definition virtual reality experience.
Website: TNM & TOPPAN Museum Theater
* English audio guide available (Free)
* You may not enter mid-way through the program.
* Screening schedule and capacity are subject to change.
Date
January 20, 2021 (Wed) - April 11, 2021 (Sun) (Every Wed,Thu,Fri,Sat,Sun,Holiday)
Time
●Until March 28, 2021
11:00、12:00、13:30、15:00、16:00
●Starting March 31, 2021
[Wed, Thu, Fri] 12:00、13:00、14:00、15:00、16:00
[Sat, Sun, Holidays] 11:00、12:00、13:00、14:00、15:00、16:00
* Admission starts 5minites prior to screening.
Venue
Asian Gallery (Toyokan)-TNM & TOPPAN Museum Theater

Running time
about 35 min.
Capacity
48
*Seating capacity has been reduced to prevent the spread of COVID-19.
Fee
High school students and above: 600yen
*Regular admission fees apply to persons over 18 (excluding high-school students) and under 70.
Elementary and junior high school students: 300yen
Pre-school children and persons with disability and one person accompanying them: Free
*All visitors must make an online reservation for admission.
Ticket purchase
At the theater entrance
*Admission at the front of the theater ends at screening time.
Supervision of
Tokyo National Museum
Production of
Toppan Printing Co.,Ltd.
Inquiries
050-5541-8600(Hello Dial)