>> Virtual Reality of Japanese Swords
Past TNM & TOPPAN MUSEUM THEATER
Virtual Reality of Japanese Swords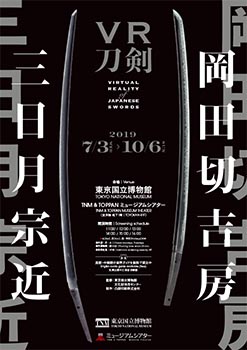 Experience the allure of Japanese swords through a very special VR appreciation featuring a top selection of renowned blades.

Japanese swords are cultural properties that have been safely guarded over generations. Their beauty and craftsmanship, a product of a history spanning a thousand years, continues to be passed down today. In this VR appreciation, two Japanese swords specially selected from the renowned blades in the collection of the Tokyo National Museum are compared. These two swords – the "Mikazuki Munechika" and the "Okadagiri Yoshifusa" – are both national treasures, each with their own distinct characteristics. While this program will touch on some technical aspects you may not be familiar with, it will treat you to a very special appreciation of Japanese swords, the kind that you can only experience at the TNM & TOPPAN Museum Theater.
* English and Chinese audio guide available (Free)
* Screening times are subject to change
Date
July 3, 2019 (Wed) - October 6, 2019 (Sun) (Every Wed,Thu,Fri,Sat,Sun,Holiday)
Time
(Wed, Thu, Fri): 12:00, 13:00, 14:00, 15:00, 16:00
(Sat, Sun, Holidays): 11:00, 12:00, 13:00, 14:00, 15:00, 16:00 
*Admission starts 5minites prior to screening.
*You may not enter mid-way through the program.
Venue
Asian Gallery (Toyokan)-TNM & TOPPAN Museum Theater

Supervision of
Tokyo National Museum, National Center for the Promotion of Cultural Properties
Production of
Toppan Printing Co.,Ltd.
Running time
about 35 min.
Fee
High school students and above: 500yen
* Regular admission fees apply to persons over 18 (excluding high-school students) and under 70.
Elementary and junior high school students: 300yen
Pre-school children and persons with disability and one person accompanying them: Free

Regular Exhibition Set Ticket
*Sold only at the front entrance ticket counter
Adults: 1000yen
University students: 800yen
Ticket purchase
In front of the theater or at the front entrance ticket counter
*Admission at the front entrance ticket counter ends 15 minutes prior to screening. Admission at the front of the theater ends at screening time.
Inquiries
03-5777-8600 (Hello Dial)
Related Exhibition
---

July 23, 2019 (Tue) - September 29, 2019 (Sun)