>> VR program "Kumamoto Castle"
Past TNM & TOPPAN MUSEUM THEATER
VR program "Kumamoto Castle"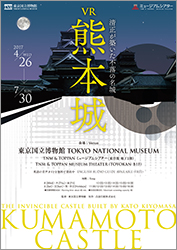 INVINCIBLE KUMAMOTO CASTLE WHAT MAKES THIS CASTLE SO UNIQUE?

Kato Kiyomasa was a powerful, valiant samurai warrior who lived during the Sengoku period. He was also known as an expert of castle construction. Famed for his castle-building prowess, Kato Kiyomasa was appointed by the regent Toyotomi Hideyoshi and shogun Tokugawa Ieyasu to build a number of castles. Kato Kiyomasa had extensive experience in castle construction and had
valiantly fought in numerous battles. He constructed his own Kumamoto Castle with iron-tight defense strategies to protect the castle should a siege occur. Now, let's go inside the castle and head towards main donjon and honmaru palace with our navigator, as if we were trying to invade the impregnable structure.

*English audio guide available (free)
*A portion of sales will be donated to the Kumamoto Castle Disaster Restoration Fund.
Date
April 26, 2017 (Wed) - July 30, 2017 (Sun) (Every Wed,Thu,Fri,Sat,Sun,Holiday)
Time
(Wed, Thu, Fri): 12:00, 13:00, 14:00, 15:00, 16:00
(Sat, Sun, Holidays): 11:00, 12:00, 13:00, 14:00, 15:00, 16:00 
*Admission starts 5minites prior to screening.
Venue
Asian Gallery (Toyokan)-TNM & TOPPAN Museum Theater

Supervision of
Tokyo National Museum
Production of
Toppan Printing Co.,Ltd.
Running time
about 40 min.
Fee
High school students and above: 500yen
*University students and above require a museum admission ticket.
Elementary and junior high school students: 300yen
Pre-school children and persons with disability and one person accompanying them: Free

Regular Exhibition Set Ticket
*Sold only at the front entrance ticket counter
Adults: 1000yen
University students: 800yen
Ticket purchase
In front of the theater or at the front entrance ticket counter
*Admission at the front entrance ticket counter ends 15 minutes prior to screening. Admission at the front of the theater ends at screening time.
Inquiries
3-5777-8600(Hello Dial)