Hidden Treasures from the National Museum, Kabul
Hidden Treasures from the National Museum, Kabul / Hyokeikan April 12, 2016 (Tue) - June 19, 2016 (Sun)
Since the ancient times, Afghanistan thrived at the "crossroads of civilizations" in Central Asia. This country developed a distinctive culture of its own as a center of the Silk Road. This exhibition comprising of 231 ancient artworks from the National Museum of Afghanistan, illustrates some of the most magnificent cultures that flourished from around 2100 BC to 2nd century AD by presenting the "hidden treasures" excavated at four ancient sites in Afghanistan.
Also, at this occasion an official arrangement between the organizers and the Afghanistan government was made to include a part of the "Displaced Cultural Properties of Afghanistan" .
Highlights of the Exhibition
Chapter 1 Tepe Fullol
Gold, bronze, tin, lapis lazuli, garnet, carnelian are all mineral resources of Afghanistan. Pioneers stepped onto mountain range of Hindu Kush. A distinctive culture with its own architectural technique developed at the beginning of the Bronze Age (around 2200BC). During the Bronze Age numerous architectures constructed with massive stone slabs were built, and this architectural style continued for several centuries. As there is Oxus River, architects call this Oxus Civilization, although formal name is unknown since no record of the Bronze Age has been found. In 1966 a farmer living in northern Afghanistan (Fullol) first discovered Oxus tomb. Containers displayed in the exhibition were also discovered from the tomb.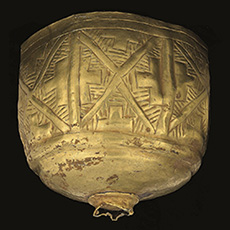 Goblet with geometric motif
2100-2000 B.C.
National Museum of Afghanistan
Chapter 2 Aï Khanum
Ai Khanum was a Greek colonized city in northern Afghanistan within the land of Bactoria. Ai Khanum, which translates to "Lady Moon", was founded in in the late 4th century BC following the conquests of Alexander the Great. The site was excavated starting in 1964, by a French DAFA mission led by Paul Bernard. Excavated objects from the site point to Greco-Bactorian Kingdom and Indo-Greek Kingdom civilizations, and present Greek influence onto Buddhist art. A gilded ceremonial silver plate (lower right image) depicts a mother goddess Cybele and a goddess of victory Nike riding a central Asian war carriage watched over by Helios, the personification of the Sun. The combination of Greek gods with local artistic rendering is an important example of cultural exchange between Greece, West Asia, and Ancient Orient.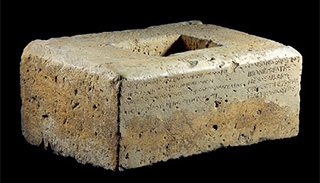 Stele base with inscription
Early 3rd century B.C.
National Museum of Afghanistan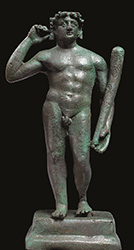 Statuette of Heracles
ca. 150 B.C.
National Museum of Afghanistan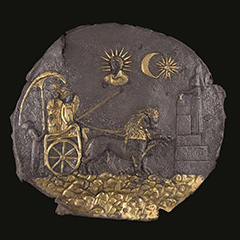 Cybele Plaque
3rd century B.C.
National Museum of Afghanistan
Chapter 3 Tillya Tepe
Bactoria, located in northern area of Afghanistan, flourished as Greco-Bactorian Kingdom until it was invaded by Central Asian nomads in 145BC. Tillya Tepe translates to "Hill of God". When the site was excavated in 1978, a tomb of a nomadic leader thought to be buried around 100BC was discovered, along with a tomb of other tribal members (5 females). These artifacts are called "Bactorian gold" and includes various ornaments, jewelries, and gold pieces used to adorn garments. These findings point to extravagant outfits of nomads.
The nomads that arrived in Bactoria interacted and exchanged cultures and developed a unique civilization combining Greek, Ancient Roman, Indian, and Chinese elements. "Bactorian gold" is one of the prominent objects of the exhibition. Each piece, although small, shows delicate execution of shape and design.
Adorable depictions of local and mythical animals also captures the eyes of viewers. the combination of gold and turquoise is exquisite.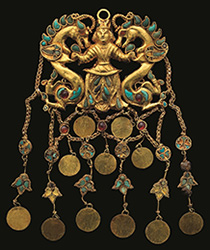 Pendants with Dragon Master
Second quarter of the 1st century A.D.
National Museum of Afghanistan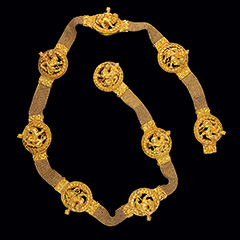 Belt with medallions
Second quarter of the 1st century A.D.
National Museum of Afghanistan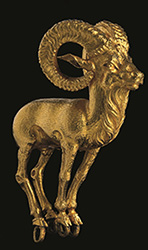 Standing ram
Second quarter of the 1st century A.D.
National Museum of Afghanistan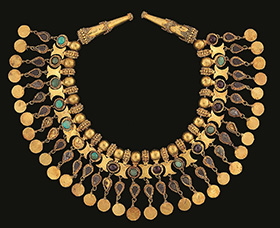 Ornament for the neck of a robe
Second quarter of the 1st century A.D.
National Museum of Afghanistan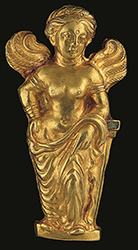 Applique of Aphrodite
Second quarter of the 1st century A.D.
National Museum of Afghanistan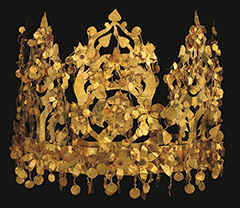 Crown
Second quarter of the 1st century A.D.
National Museum of Afghanistan
Chapter 4 Begram
Begram, located in northern area of Afghanistan, was once a focal trading point on the Silk Road. From 1930s to 40s extensive excavations were carried out by French archaeologists. In a site called "palace", various precious objects such as Greco-Roman bronze statues, enameled glass goblets from the Ancient Roman Egyptian
city Alexandria, Chinese lacquerware, and ivory statues that did not even survive in India were discovered.
These objects date back to Kushan Empire. The latest study also point out that Begram was a primary point of trade and manufacture of Kushan Empire that spread its power all the way down to Ganges region in India. The objects were found hidden underneath deliberately placed rocks. It is speculated that an individual heading
out to a long journey on the Silk Road have covered the artifacts. And for whatever reason the person never returned and the artifacts were left untouched for over 2000 years.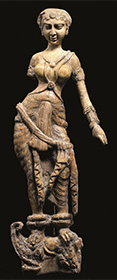 Woman standing on a makara
1st century A.D.
National Museum of Afghanistan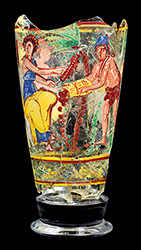 Painted goblet
1st century A.D.
National Museum of Afghanistan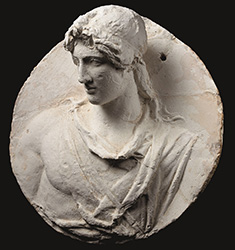 Circular medallion (torso of a young man)
1st century A.D.
National Museum of Afghanistan
Chapter 5 Displaced Cultural Properties from Afghanistan
At the height of the turmoil in Afghanistan, countless cultural properties were pillaged from the National Museum in Kabul and raided from various archaeological sites then smuggled out of the country. Some of these made their way to Japan. The Japanese painter HIRAYAMA lkuo, whose life' s work focused on paintings of the Silk Road, proclaimed this flood ofcultural properties leaving the region to be "cultural properties refugees" and established the Japan Committee for the Protection of Displaced Cultural Properties with the approval of UNESCO in 2001. The committee advocated the safeguarding of such items in Japan until peace and stability returned to Afghanistan, The cultural properties that were turned over byindividuals endorsing this mandate have been provided protective care under said committee and it has been decided that a total of 102 works can now safely be returned toAfghanistan. This exhibition offers the opportunity to feature a special selection of fifteen of these cultural properties in anticipation of their return.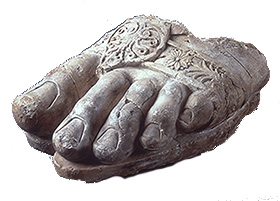 Left Foot of Zeus
3rd century B.C.
Aï Khanum
Held in trust by the Japanese Committee for the protection from Dispersement of Cultural Properties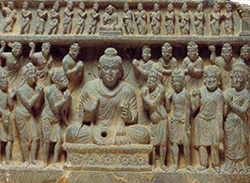 Buddha worshipped by Kasyapa Brothers (detail)
2nd-3rd century A.D.
Shotorak
Held in trust by the Japanese Committee for the protection from Dispersement of Cultural Properties
(C)NMA/Thierry Ollivier
General Information

Period
Tuesday, April 12 - Sunday, June 19, 2016
Venue
Hyokeikan, Tokyo National Museum (Ueno Park)
Hours
9:30 - 17:00
Saturdays, Sundays, and Holidays, May 2 until 18:00
Fridays until 20:00
(Last entry 30 minutes before closing)
Closed
Mondays (Except for Monday, May 2)
Admission

Adults: 1400 (1200/1100) yen
University students: 1000 (800/700) yen
High school students: 600 (400/300) yen
Junior high school students and under: Free

| | |
| --- | --- |
| * | Prices shown in ( ) indicate advance and group (more than 20 persons) discount tickets. |
| * | Persons with disabilities are admitted free with one accompanying person each. |
| * | Advance tickets will be on sale at the museum ticket booths (during museum opening hours excluding the last 30 minutes), fujitvdirect, e-Ticket Pia (P-code: 767-179), Lawson Ticket (L-code: 37256), E-Plus, JTB,and other major ticketing agencies from Saturday, December 12, 2015 to Monday, April 11, 2016. |
| * | Special exhibition "Kuroda Seiki, Master of Modern Japanese Painting: The 150th Anniversary of his Birth" (Wednesday, March 23 - Sunday, May 15, 2016, Heiseikan) requires a separate admission fee. |

Access
10 minutes' walk from JR Ueno Station (Park exit) and Uguisudani Station (South exit)
15 minutes' walk from Keisei Ueno Station, Tokyo Metro Ueno Station and Tokyo Metro Nezu Station
Organizers
Tokyo National Museum, Ministry of Information and Culture of the Islamic Republic of Afghanistan, The Sankei Shimbun, Fuji television network, Inc.
With the Support of
Ministry of Foreign Affairs of Japan, Embassy of the Islamic Republic of Afghanistan in Tokyo
With the Special Assistance of
Agency for Cultural Affairs, National Research Institute for Cultural Properties, Tokyo,
Foundation for Cultural Heritage and Art Research, Japan-Afghanistan Association
With the Sponsorship of
Daihatsu Motor Co., Ltd., YAMAZAKI-NABISCO Co., Ltd.
With the Assistance of
National Geographic Society, Nippon Express Co., Ltd., Sompo Japan Nipponkoa Insurance Inc., Daishinsha Inc.,


Galaxy

This exhibition is covered by the Japanese Government Indemnity for Work of Art.
General Inquiries
03-5777-8600 ("Hello Dial", Service in Japanese)
Exhibition Website
http://www.gold-afghan.jp/ (in Japanese)
The website has closed with the end of the exhibition.
Related Events
Heiseikan Auditorium April 17, 2016 (Sun) 13:30 - 15:00

Heiseikan Auditorium April 23, 2016 (Sat) 13:30 - 15:00

Heiseikan Auditorium May 28, 2016 (Sat) 13:30 - 15:00

Other venue
Kyushu National Museum : Friday, January 1 – Sunday, February 14, 2016