>> Kuroda Seiki, Master of Modern Japanese Painting: The 150th Anniversary of his Birth
Kuroda Seiki, Master of Modern Japanese Painting: The 150th Anniversary of his Birth
Kuroda Seiki, Master of Modern Japanese Painting: The 150th Anniversary of his Birth / Heiseikan Special Exhibition Galleries March 23, 2016 (Wed) - May 15, 2016 (Sun)
2016 marks the 150th anniversary of Kuroda Seiki's birth. Widely known for his painting entitled Lakeside, Kuroda (1866–1924) contributed greatly to the modernization of the arts in Japan.

This exhibition aims to comprehensively look at Kuroda's artistic achievements through his masterpieces. These include Reading and Portrait of a Woman (Kitchen), which were painted while he was studying abroad, as well as those from after his return to Japan, such as Maiko Girl and Wisdom, Impression, Sentiment. The exhibition also features works that Kuroda could have seen in France and was influenced by, including ones by Raphaël Collin (1850–1916), under whom Kuroda trained, and Jean-François Millet (1814–1875).
Highlights of the Exhibition
Chapter 1
Becoming a Painter in France: The student years, 1884–93
Kuroda Seiki (1866–1924) was born in Kagoshima as the son of a samurai from the Satsuma Domain. He moved to France to study law when he was 18. He met several Japanese painters while in Paris and their exchanges stiffened his resolve to become a painter himself. He entered the studio of Louis-Joseph-Raphaël Collin (1850–1916), a French artist who faithfully followed academic art principles while incorporating a bright plein air style of expression into his works. This further whetted Kuroda's aspirations to be a painter. Kuroda's paintings from this period reveal an artist learning based on the Academic art education in France and developing his own style.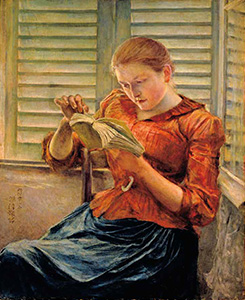 Reading
1891 (Meiji 24)
Tokyo National Museum

During his stay in Europe, Kuroda visited and fell in love with the village Grez-sur-Loing. It was here that he met Maria Billaut. She served as a model for the works that would come to epitomize his time in France.

Kuroda's natural artistic talent was recognized by the French art world when his painting Reading was accepted at the Salon of Société des Artistes Français exhibition in 1891. Kuroda took his first steps as a painter during his student years and his paintings from this time are awash with the brilliant light of Europe.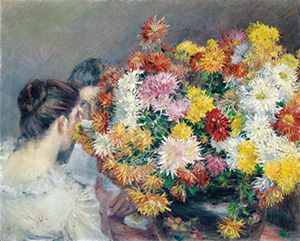 Chrysanthemums and European Ladies
1892 (Meiji 25)
Private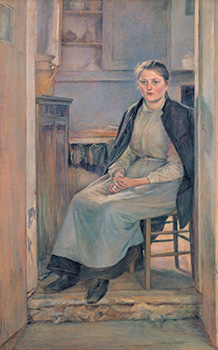 Portrait of a Woman (Kitchen)
1892 (Meiji 25)
Tokyo University of the Arts
Western Paintings
Kuroda also felt an affinity with artists who painted scenes of rural life. These included Jean-François Millet (1814–75), who belonged to the Barbizon school, and Jules Bastien-Lepage (1848–84), a painter associated with the naturalism movement.

While in Paris, he also encountered works by Impressionist painters like Claude Monet (1840–1926) and he experimented with these forms of expression in paintings he created after returning to Japan.
As well as studying academic painting under Raphaël Collin, Kuroda also developed his own deep interest in the themes, styles and ideas of modern French painting.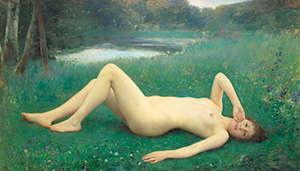 Floréal
Raphaël Collin
1886
Musée des Beaux-Arts d'Arras
©RMN-Grand Palais (musée d'Orsay)/Hervé Lewandowski/distributed by AMF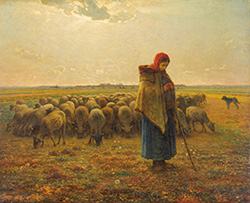 Bergère avec son troupeau
Jean-François Millet
c. 1863
Paris, musée d'Orsay, legs d'Alfred Chauchard, 1910
©RMN-Grand Palais (musée d'Orsay)/Michel Urtado/distributed by AMF
Chapter 2
Searching for a Japanese form of Western-style painting: The Hakubakai years, 1893–1907
After returning to Japan in the summer of 1893, Kuroda searched for the ideal form for Japanese Western-style painting. His brightly-colored style breathed new life into the Japan's Western painting scene.
Soon after returning home, Kuroda set out to produce works in Japan that would bear comparison with French paintings. He strived to get Japanese Western-style paintings recognized internationally as true works of art. Traces of these strivings can be seen in the masterwork Talk on Ancient Romance (1898; lost in a fire), his attempt to paint a French Salon-style painting with Japanese themes and motifs. They are also on display in Wisdom, Impression, Sentiment (Important Cultural Property), his triptych painting portraying an idealized form of Japanese femininity. Lakeside (Important Cultural Property) was also painting during this phase of experimentation.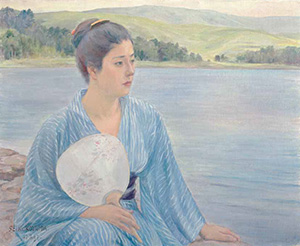 Lakeside
1897 (Meiji 30)
Important Cultural Property
Tokyo National Museum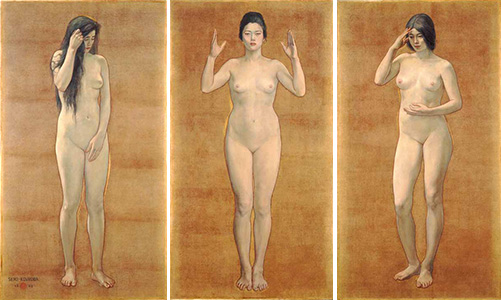 Wisdom, Impression, Sentiment
1899 (Meiji 32)
Important Cultural Property
Tokyo National Museum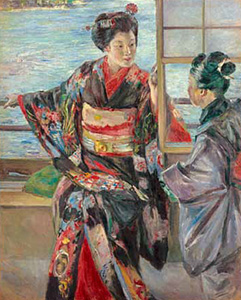 Maiko Girl
1893 (Meiji 26)
Important Cultural Property
Tokyo National Museum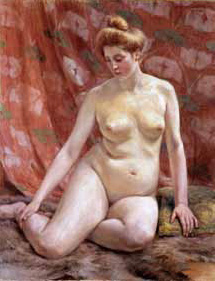 Female Nude
1901 (Meiji 34)
Seikado Bunko Art Museum
Chapter 3
The formation of a Japanese Western-style Academism: The Bunten and Teiten years, 1907–24
Kuroda struggled to establish a form of academism rooted in Japanese soil. He believed this was vital for the future of Japanese Western-style painting.

Kuroda's numerous responsibilities led him to focus on the creation of smaller works during his later years. Influenced by new artistic movements like Post-Impressionism and Expressionism, these were not meant for public display. In these small works, we can see signs of an internal struggle as Kuroda tasked himself with the formation of academism while also sensing an affinity with new forms of expression.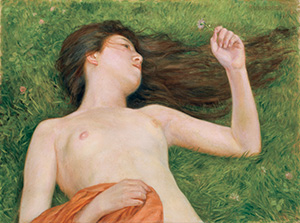 The Fields
1907 (Meiji 40)
Pola Museum of Art (Pola Collection)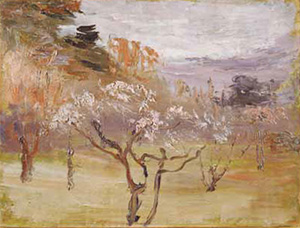 Plum Garden
1924 (Taisho 13)
Tokyo National Museum
Modern Japanese Paintings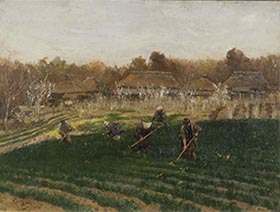 Vegetable Garden in Spring

Asai Chu
1888 (Meiji 21)
Important Cultural Property
Tokyo National Museum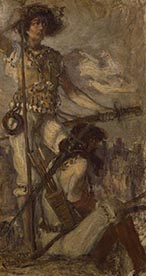 Yamato Takeru no Mikoto
Aoki Shigeru
1906 (Meiji 39)
Tokyo National Museum
General Information

Period
Wednesday, March 23 - Sunday, May 15, 2016
Venue
Heiseikan, Tokyo National Museum (Ueno Park)
Hours
9:30 - 17:00
Saturdays, Sundays, Holidays, and May 2 until 18:00
Fridays until 20:00
(Last entry 30 minutes before closing)
Closed
Mondays (Except for Monday, March 28, April 4, May 2)
Admission
Adults: 1600 (1400/1300) yen
University students: 1200 (1000/900) yen
High school students: 900 (700/600) yen
Junior high school students and under: Free

| | |
| --- | --- |
| * | Prices shown in ( ) indicate advance and group (more than 20 persons) discount tickets. |
| * | Persons with disabilities are admitted free with one accompanying person each. |
| * | Advance tickets will be on sale at the museum ticket booths (during museum opening hours excluding the last 30 minutes) and other major ticketing agencies from January 23 to March 22, 2016. |
| * | Special exhibition Hidden Treasures from the National Museum, Kabul (Tuesday, April 12 - Sunday, June 19, 2016, Hyokeikan) requires a separate admission fee. |

Access
10 minutes' walk from JR Ueno Station (Park exit) and Uguisudani Station
15 minutes' walk from Keisei Ueno Station, Tokyo Metro Ueno Station and Tokyo Metro Nezu Station
Organizers
Tokyo National Museum, Tokyo Research Institute for Cultural Properties, The Asahi Shimbun, NHK, NHK Promotions Inc.
With the Sponsorship of
Dai Nippon Printing Co.,Ltd.
With the Assistance of
Aioi Nissay Dowa Insurance Co., Ltd.,


Air France / KLM Royal Dutch Airlines

General Inquiries
03-5405-8686 (Hello Dial)
Exhibition Website
http://www.seiki150.jp/ (In Japanese)
The website has closed with the end of the exhibition.