>> The Great Tsunami of March 11, 2011 and the Restoration of Cultural Properties
The Great Tsunami of March 11, 2011 and the Restoration of Cultural Properties
The Great Tsunami of March 11, 2011 and the Restoration of Cultural Properties / Japanese Gallery (Honkan) Room T2 & T4 January 14, 2015 (Wed) - March 15, 2015 (Sun)
On March 11, 2011 the tsunami following the Great East Japan Earthquake dealt severe damage to cultural properties that had supported the culture of the Tohoku area in northeastern Japan. After this disaster, the Tokyo National Museum cooperated with institutions including the Rikuzentakata City Museum and the Iwate Prefectural Museum to restore these damaged cultural properties. This exhibition will share with visitors the results of four years of effort and inform them of this restoration project's current status.
Highlights of the Exhibition
Restration of Cultural Properties and Bonds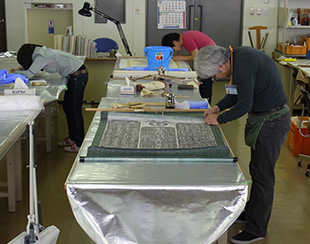 Restoration of a rubbing from an inscribed stone with a poem by Ishikawa Takuboku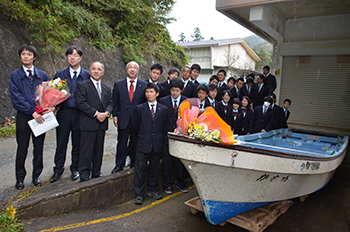 Restitution of Training Boat

Kamome
The training boat Kamome had belonged to the Marine Systems Department of Takata Prefectural High School in Iwate Prefecture and had been used for training people in aquaculture. The boat had been adrift on the Pacific Ocean for about two years, and was found on a beach in the city of Crescent in California, U.S.A. When shells that had adhered to the boat were removed, the words "Takata High School," which showed that it was a training boat of the school, were found on it. A fund-raising campaign which had been set up by high school students in Crescent to return the boat to the High School in Japan served as an impetus, and the boat was returned to Rikuzentakata, to its home. This boat is a symbol of the strong bonds between humans that go across national borders.
Rescue of Cultural Properties
Process for Rescue of Cultural Properties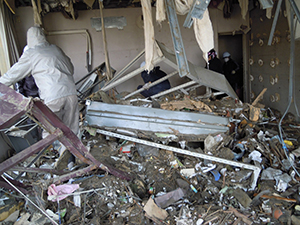 Salvaging

In disaster-affected facilities, debris and cultural properties are scattered in a mixed manner. If the affected cultural properties are left untreated, they will deteriorate rapidly. Therefore, they should be salvaged as soon as possible and transferred to safe areas. Since such salvaging operation requires many hands for a short period of time, museums from all over Japan joined the activities. How fast we can salvage cultural properties after disasters will greatly affect the subsequent treatment and storage conditions.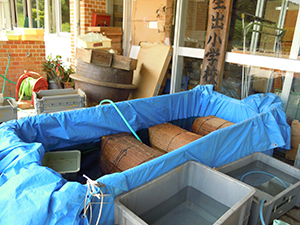 Stabilization

Cultural properties submerged in seawater may deteriorate rapidly because they are covered with sludge from the bottom of the sea, various saprophytic bacteria, and salt contained in seawater. For that reason, the salvaged cultural properties will need to undergo stabilization treatment, cleaning treatment to stop deterioration, and then, they will undergo full-scale treatment. In the city of Rikuzentakata overall, 460,000 materials out of 560,000 have been salvaged, and 160,000 have been subjected to stabilization treatment. Only after undergoing the full-scale treatment subsequent to the stabilization will the affected cultural properties be restored completely.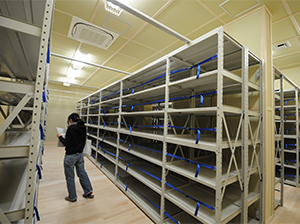 Storage

After the salvaged cultural properties are stabilized, they are going to be stored in a safe environment while undergoing full-scale treatment little by little. In addition to repairing the cultural properties, maintaining the storage site in an environment appropriate to the properties is also crucial work. However, in reality, buildings of closed down schools and others are used for storing salvaged cultural properties. They are not always appropriate facilities for this storage. Activities are continuing even now to comprehend the features of buildings to be used as storage sites and to improve their environment step by step.
Related Events
Japanese Gallery (Honkan) January 31, 2015 (Sat) 13:30 - 15:30

Pamphlet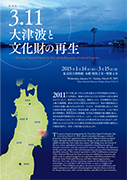 The Great Tsunami of March 11, 2011 and the Restoration of Cultural Properties
The pamphlet is distributed in T2 Room, Honkan during the thematic exhibition periods.
PDF
(

PDF, 5.55MB)
General Information

Period
Wednesday, January 14, 2014 - Sunday, March 15, 2015
Venue
Honkan Room T2&T4, Tokyo National Museum (Ueno Park)
Hours

9:30 - 17:00
March 6, 13, until 20:00
(Last entry 30 minutes before closing)

Closed
Mondays
Admission
Adults: 620 (520) yen
University Students: 410 (310) yen

*
( ) indicate prices for those in groups of 20 or more.
*
Persons with disabilities are admitted free with one accompanying person each.
*
High/Junior High/Elementary School Students and persons under 18 and over 70: Free
Please show proof of age (driver's license, passport, etc.) when entering.
*
Special exhibition "Masterpieces of Buddhist Sculpture from Northern Japan" (Wednesday, January 14 - Sunday, April 5, 2015, Honkan Room T5) requires a separate admission fee.

Access
10 minutes' walk from JR Ueno Station (Park exit) and Uguisudani Station
15 minutes' walk from Keisei Ueno Station, Tokyo Metro Ueno Station and Tokyo Metro Nezu Station
Organizer

Tokyo National Museum, The Committee for the Multi-Organizational Co-Operative Project for Preserving and Restoring Cultural Assets Damaged by Tsunami on March 11th, 2011

General Inquiries
03-5405-8686 (Hello Dial)