Creation Process of Bingata
Creation Process of Bingata / Japanese Gallery (Honkan) Room 19 April 18, 2017 (Tue) - August 5, 2018 (Sun)
This year's reproduction project features a garment from Okinawa, made by using the island's traditional bingata dyeing technique. With a mass of colorful peony flowers, buds, and leaves, all dyed on a white background, the original work is entitled: Bingata Garment with Peony Design on White Cotton. The intricate design structure and vivid colors gave our team ample opportunity to explore this superb dyeing technique that blossomed in the 19th-century Ryukyu Kingdom in Okinawa. What kind of dyeing techniques allow such minutely-detailed flower petals and leaf shapes, and what kind of culture nurtured the colorful style of bingata? This display explores answers to these questions through a combination of research, fieldwork, and hands-on reproduction.  

Before starting production, the team conducted research at the Shiroma Bingata Studio, run by one of the leading families that has continued production from the Ryukyu Kingdom period. We received much invaluable advice from them concerning the traditional techniques. Today, however, it is difficult to obtain traditional ingredients for coloring and it was decided after close observation of the original work to take up the challenge of a modern-day reproduction by using currently available ingredients.  

We hope that, by following each production process, this display allows you to appreciate the beauty of this traditional expertise.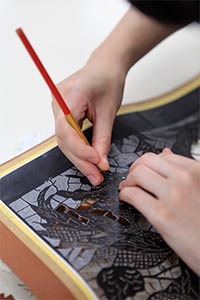 1. Stencil cutting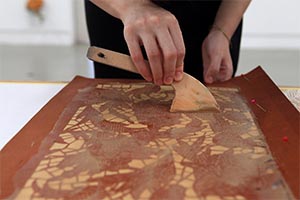 2. Placing the stencil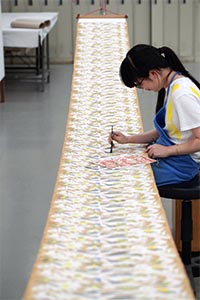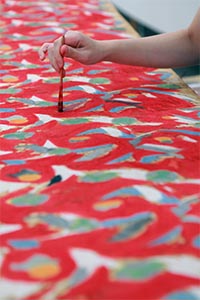 3. Coloring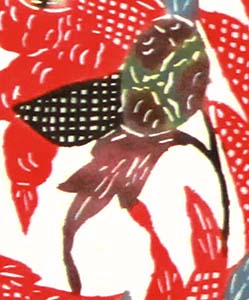 4. Shading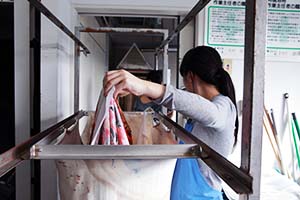 5. Steaming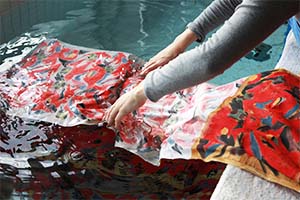 6. Washing out the paste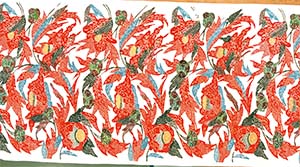 Complete
Internship Research Group, Graduate School of Fine Arts,
Tokyo University of the Arts (Enrolled as of March 2017)

Textile Production
YAMADA Asao; Doctoral Course, Textile Art, Tokyo University of the Arts
OKODA Mayuko; Master's Course, Art and Education, Tokyo University of the Arts

Design
UCHIYAMA Yoichiro; Master's Course, Visual Communication, Tokyo University of the Arts

Project Management
TAMAI Aya; Master's Course, History of Crafts, Tokyo University of the Arts
TSUKIMURA Kino; Master's Course, History of Crafts, Tokyo University of the Arts
Flyer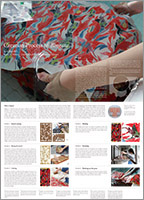 Creation Process of
Bingata
The flyer is distributed in Education center: Education space (19 Room, Honkan) during the exhibition periods.
PDF
(

PDF, 3.12MB)