Japanese Gallery (Honkan) Room T2
July 17, 2013 (Wed) - August 25, 2013 (Sun)
Summer is here, which means it is time for our annual Family Gallery. The theme this year is "Making Works of Japanese Art IV." This gallery introduces four techniques from traditional Japanese art.

(1) Decorated Writing Paper
In Japanese calligraphy, the writing paper, or ryoshi, is sometimes decorated with gorgeous patterns that harmonize beautifully with characters written in ink. We will introduce techniques such as kirihaku or sunago, which decorate the paper using gold and silver foil or powder.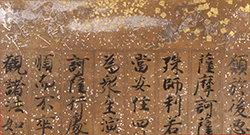 (2) Shippo (Cloisonné)
Shippo is a coloring technique that involves painting vitreous enamels onto a copper or other metal surface and firing the surface in a kiln. Shippo means "seven treasures." As the name suggests, shippo uses bright, shiny colors. We will introduce a technique called yusen shippo, which uses wires to separate the different colors.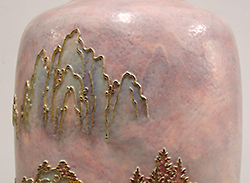 (3) Dolls
Everyone knows what dolls look like, right? In Japan, dolls are displayed during the Girls' Festival in March and the Boys' Festival in May. Dolls have many different expressions: some have beautiful faces, while others look cute or brave. We will show you how to make a doll's face using wood. You will see how much time and effort goes into making just one doll's face.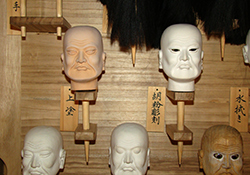 (4) Bronze mirrors
In olden times, mirrors were made of bronze. The surfaces of the bronze mirrors were then polished to reflect objects. Most ancient bronze mirrors were circular and their backs were decorated with many different patterns. How did people make the mirrors so round? And what techniques did they use to create the patterns?