>> Grand Exhibition of Sacred Treasures from Shinto Shrines
Grand Exhibition of Sacred Treasures from Shinto Shrines
Grand Exhibition of Sacred Treasures from Shinto Shrines / Heiseikan Special Exhibition Galleries April 9, 2013 (Tue) - June 2, 2013 (Sun)
From ancient times, the Japanese people have respected nature and appreciated its power that transcends human knowledge. People believed that gods resided in natural creations such as mountains, rocks, and trees. Shrines that were built to worship the gods housed statues representing deities and their accompanying divine treasures. These statues and treasures have been carefully preserved at Shinto shrines, places revered as sacred. This exhibition, on the occasion of the 62nd grand relocation of the Ise Jingu shrine, will be held with the full cooperation of Jinja Honcho (Association of Shinto Shrines) and shrines across Japan, presenting a rare opportunity for a comprehensive view of treasures and cultural heritage related to Shinto shrines and deities.
General Information

Period
Tuesday, April 9 - Sunday, June 2, 2013
Venue
Heiseikan, Tokyo National Museum (Ueno Park)
Hours
9:30 - 17:00 (Last entry 30 minutes before closing)
Saturdays, Sundays, Holidays until 18:00
Fridays until 20:00
(Last entry 30 minutes before closing)
Closed
Mondays(Except for Monday, April 29, May 6)
Admission
Adults: 1500 (1300/1200) yen
University students: 1200 (1000/900) yen
High school students: 900 (700/600) yen
Junior high school students and under: Free

*
Prices shown in ( ) indicate advance and group (more than 20 persons) discount tickets.
*
Persons with disabilities are admitted free with one accompanying person each.
*
Advance tickets will be sale at the Museum ticket office (during museum hours, 30 minutes before closing hour), e-Ticket Pia (P-code:765-441), Lawson Ticket (L-code:33777), Seven Ticket (Seven code:020-057), E-Plus and other major ticketing agencies from

Monday

, December 3, 2012 to Monday, April 8, 2013.
*

Advance pair tickets (two admissions, 2000yen) will be sale at the Museum ticket office (during museum hours, 30 minutes before closing hour), e-Ticket Pia (P-code:765-442), and other major ticketing agencies from Monday, December 3, 2012 to Sunday, March 10, 2013.

Access
10 minutes' walk from JR Ueno Station (Park exit) and Uguisudani Station
15 minutes' walk from Keisei Ueno Station, Tokyo Metro Ueno Station and Tokyo Metro Nezu Station
Organizer
Tokyo National Museum, NHK, NHK Promotions Inc.
With the Special Assistance of 
Jinja Honcho (Association of Shinto Shrines)
With the Assistance of
Millennium Forest Forum
With the Sponsorship of
Aioi Nissay Dowa insurance Co., Ltd, Dai Nippon Printing Co.,Ltd., Toyota Motor Corporation, Mitsubishi Corporation
General Inquiries
03-5405-8686 (Hello Dial)
Exhibition Website
http://daijinja.jp/ (In Japanese)
The website has closed with the end of the exhibition.
Next venue
Kyushu National Museum : Wednesday, January 15 - Sunday, March 9, 2014
Related Events
Heiseikan Auditorium April 27, 2013 (Sat) 13:30 - 15:00

Heiseikan Auditorium May 11, 2013 (Sat) 13:30 - 15:00

Part 1: Ancient Treasures
Once people began to erect shrines for worshipping various kami, they also began to furnish these spaces with an array of sacred treasures─clothing, furniture, arms and armor, and other personal items created specially for the enshrined deities─just as though they were rooms in palaces. These sacred items were not intended to be viewed, but some of them were removed from the sacred buildings after serving their purposes, and were preserved as sacred treasures.
The form and ornamentation of these ancient treasures, which consisted of objects sumptuously adorned in decorative techniques of brocade and figured silk, mother-of-pearl inlay and sprinkled gold on lacquer, emulated the styles once found in the residences of imperial and aristocratic families. These objects represent the aesthetics and lifestyle of court society, from which Japanese styles developed.
Uwagi, overrobe
With phoenixes over miniature hollyhocks on white ground
Kamakura period, 13th century
National Treasure
Tsurugaoka Hachimangu, Kanagawa
[on exhibit from April 9 to May 6, 2013]
Accessory box and contents
With maki-e lacquer tachibana design
Nanbokucho period, dedicated in 1390
National Treasure
Kumano Hayatama Taisha, Wakayama
[on exhibit from April 9 to May 6, 2013]
Part 2: The Origins of Ritual Celebration
It is believed that in Japan, before the transmission of Buddhism, a primitive religion existed that became the origin of Shinto, which is a distinctively Japanese, indigenous form of nature worship. The ancient people recognized sacred spirits in the mountains and rocks, rivers and seas, and even the forests and plants, and held them in great awe.
This section focuses on deities of the mountains and seas. Looking at the beginnings of ritual celebration of these deities through discoveries at the Yamanokami and Okinoshima ceremonial sites, it presents an introduction to the world of beauty found in the dedications to these deities. In addition, this section views the time when festivals celebrating the kami began, based on historical resources such as the Kojiki (Record of Ancient Matters), Nihon shoki (Chronicles of Japan), and Engi shiki jinmyo cho (Shrine Register of the Engi Era).
Mirror with square, compasses and rulers design
Kofun period, 4th – 7th century
National Treasure
Munakata Taisha, Fukuoka
Gilt bronze miniature loom


Nara to Heian period, 8th – 9th century
National Treasure
Munakata Taisha, Fukuoka
Nihon shoki (Chronicles of Japan), vol. 1, section 1, "Age of the Gods" part 1


Nanbokucho period, dated 1375
Important Cultural Property
Atsuta Jingu, Aichi
[on exhibit from May 8 to June 2, 2013]
Part 3: Sacred Landscapes
Shinto shrines were usually surrounded by trees, which were deeply connected to the shrines as "sacred forests." Often, they were located by a mountain where the kami resided. For these reasons, paintings came to depict these sacred sites as a shrine structure at the center with additional emphasis on the natural surroundings, including the sacred mountain. In contrast to Buddhist art, where ultimately the figures of buddhas and bodhisattvas play the most central role, one of the distinctive features of Shinto paintings is this emphasis on the landscape.
This section examines distinctive Shinto thoughts, the actual sceneries of ancient times, and scenes of sacred sites through a variety of painted images. These include shrine mandalas, which became objects of worship through the syncretism of Shinto and Buddhism; pilgrimage mandalas, which were used to spread Shinto beliefs; handscrolls that provided illustrated shrine histories; and diagrams delineating the boundaries of Shinto sacred spaces.
Matsuzaki Tenjin engi (Legends of Matsuzaki Tenjin Shrine), vol. 6


Kamakura period, dated 1311 (Ocho 1)
Important Cultural Property
Hofu Tnmangu, Yamaguchi
[on exhibit from May 8 to June 2, 2013]
Part 4: The Exultation of Festival
Festival is the act of appeasing and honoring deities and ancestral spirits, asking for their powerful divine protection, and praying for and giving thanks for peace and bountiful harvest. Originally, such occasions were important functions in determining the fate and fortune of regional communities and extended family groups. At festivals, specially prepared foods were presented as offerings and people and deities partook of them together, to the accompaniment of a variety of ceremonial performances, including music, dance, and Noh plays.
This section presents various screens depicting festival scenes that convey the celebratory energy of such occasions. In addition, there are examples of the costumes worn in the dances and Noh plays performed before the deities, as well as other objects associated with these ritual celebrations.
Kariginu, outer jacket
Heron and reed design on dark blue ground
Azuchi-Momoyama period, 16th century
Important Cultural Property
Kasuga Jinja, Motosu, Gifu
[on exhibit from May 8 to June 2, 2013]
Scenes of the Hokoku Festival

(detail)
By Kano Naizen
Edo period, 17th century
Important Cultural Property
Toyokuni Jinja, Kyoto
[on exhibit from May 8 to June 2, 2013]
Part 5: Preserving Masterpieces through the Ages
In addition to the ancient sacred treasures, Shinto shrine collections house numerous precious objects. Among them are not only items that have been esteemed and passed down by the shrines since ancient times, but also articles dedicated by aristocratic and warrior-class families for the prosperity of their families and their descendants, gifts made in thanks for the protection of the kami, costumes and implements used in festivals and shrine events, and documents recording the history of shrines. The custom of presenting offerings of votive tablets and other objects in devotion or in thanks continues to this day.
This section presents a selection of objects that have been passed down in shrine collections, from mirrors and shrine furnishings to swords, armor, equestrian fittings, paintings, and ancient manuscripts.
Seven-branched sword


Kofun period, 4th century
National Treasure
Isonokami Jingu Shrine, Nara
[on exhibit from April 9 to May 6, 2013]
on exhibit through May 12, 2013
Yoroi armor with white lacing and diagonal corner accents


Nanbokucho period, 14th century
National Treasure
Kushihiki Hachiman Shrine, Aomori
[on exhibit from May 8 to June 2, 2013]
Mirror with sea creatures and grape vines


Tang Dynasty or Nara period, 8th century
National Treasure
Katori Jingu, Chiba
Part 6: Shinto Deities and Physicality of Form
Originally understood to be invisible and intangible, kami first began to be represented in figural form in the 8th century, although the earliest surviving examples date from the 9th century. The main idol of the Matsunoo Taisha shrine is one of the earliest of such figures and takes the form of a prototypical male deity, bearing a dignified expression and wearing a crown and court robe. By the end of the 9th century, a unique style featuring a lack of depth in the lower parts of the figures was established in Shinto statues. Female deity figures from this period are characterized by voluptuousness and intense expression, but by the late Heian period (794–1192) elegant figures evocative of courtly women began to appear. Charming child-like icons were also produced during this time.
Meanwhile, in paintings, the presence of kami was expressed indirectly through partial depictions of figures or through the representation just of their divine attendants, expressing a mystical world that was impossible to achieve in sculpture.
Seated Ketsumimiko no okami


Heian period, 9th – 10th century
National Treasure
Kumano Hayatama Taisha, Wakayama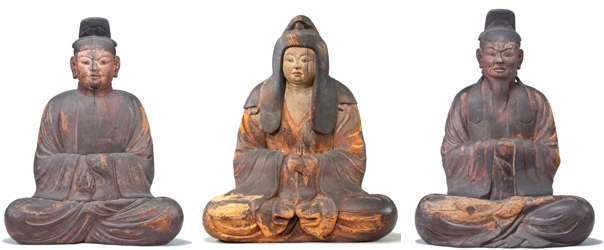 Seated male deity, Seated female deity, Seated male deity


Heian period, 9th century
Important Cultural Property
Matsunoo Taisha Shrine, Kyoto
Yoshino Mikomori, Child-Protecting Deity


Nanbokucho period, 14th century
Private Collection
Deer bearing symbols of the Kasuga deities in their True Form


Nanbokucho period, 14th century
Important Cultural Property
Hosomi Museum, Kyoto