The Campus Members Program is available to universities with the aim of having students become more familiar with Japanese culture and cultural properties. Students and faculty of member schools are eligible for free admission to the regular exhibition. Students also receive additional discounts on special exhibitions, concerts, and member school-only seminars. We encourage educational institutes to take advantage of this great opportunity.
Note: Discounts to special exhibitions and events are applicable only to students of member schools. Member school faculty do not receive discounts to special exhibits and events.
Entrance to the museum
The Tokyo National Museum strives to develop various projects to promote students' understanding of Japanese culture and cultural properties. In order to further enrich our projects, we have established the TNM Campus Members system. The membership program aims to provide students and faculty of member schools to various educational opportunities including free admission to the regular exhibition.
Eligibility
1. Students of Member Schools
*Free admission may not be applicable depending on students' status. Please ask your university or call the phone number below to check your eligibility for free admission.
2. Faculty of Member Schools
*Non-teaching staff are not eligible.
*Part time faculty may not be eligible in some cases. Please ask your university or call the phone number below to check your eligibility for free admission.
3. Chaperones (May be non-teaching staff).
Note: Eligible only if the faculty is leading the group for educational purposes.
Admission
<Individuals>
1. Please indicate your campus member status at the ticket window and show your student/faculty ID.
2. Receive admissions ticket and enter from the gate.
<Groups>
* Group admission is applicable to groups of 20 or more students.
1. One person from the group (either a student of a chaperone) needs to indicate his/her campus membership status and show student/ faculty ID.
2. Fill out Campus Member's Group Admission Form
* If the group does not have adult chaperones, each student is asked to show their valid student ID at the entrance.
List of Member Scools (As of August 16, 2019)
Aoyama Gakuin University,Aoyama Gakuin Women's Junior College
Otsuma Women's University
Ochanomizu University
Gakushuin University
Gakushuin Women's College
J.F.Oberlin University and Affiliated Schools(J.F.Oberlin University)
Sophia University(Sophia University,Sophia University Junior College Division,Sophia School of Social Welfare)
Sugino Gakuen(Sugino Fashion College, Sugino Fashion Junior College, Dressmaker Gakuin)
Bunka Gakuen(Bunka Gakuen University, Bunka Fashion Graduate University,Bunka Gakuen Junior College,Bunka Fashion College, Bunka Institute of Language)
May Ushiyama Holliwood University(Hollywood Graduate University, Hollywood College of Total Beauty)
Kanagawa University
Kyoritsu Women's University, Kyoritu Women's Jonior College
Keio University
Kokugakuin University, Kokugakuin University Hokkaido Junior College
International Christian University
Jissen Women's Univercity, Jissen Women's Jonior College
Jumonji University
Tokyo Metropolitan University
Shobi University
Showa Women's University
Joshibi University of Art and Design,Joshibi College of Art and Design
University of the Sacred Heart,Tokyo
Seijo University Faculty of Arts and Literature
Seisen University
Taisho University
Takarazuka University
Tama Art University
Chuo University Faculty of Letters
University of Tsukuba
Tsuda University
Tsurumi University,School of Literature
Tokai University
The University of Tokyo
Tokyo University of Foreign Studies
Tokyo Gakugei University
Tokyo Kasei University, Tokyo Kasei University Jonior College
Tokyo University of the Art
Tokyo Institute of Technology
Tokyo International University
Japanese Language School Affiliated with Tokyo International University
Tokyo Women's Christian University
Tokyo Zokei University
Toyo University
Toyo Eiwa University
Toyo Institute of Art & Design
Dokkyo University
Nishogakusha University
Nippon Institute of Technology
Nihon University College of Arts
Japan Women's University
Nihon Bunka University
Bunkyo University
Hosei University
Musashino Art University
Meiji University School of Arts and Letters
Meisei University
Yokohama National University
Rikkyo University
Rissho University Faculty of Letters
Reitaku University
Waseda University
Benefits to the Campus Members Program (For university faculty and staff)
Eligibility
4-year Universities, 2-year Universities, Vocational Schools
Membership Duration
Starts the day membership payment is received until the end of the fiscal year (March 31st).
Benefits
・Free Admission to Regular Exhibitions
Students and faculty of member schools gain unlimited free access to the regular exhibition for the duration of the membership.
・Lectures and Workshops
Members are eligible to attend free "Museum Seminars" on museum studies led by our curators, and other hands-on education related activities for a fee.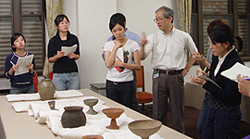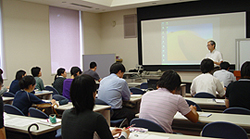 ・Discount on Event Admission
Members may purchase tickets for various events, including concerts, for a discounted price.
*Applicable only to TNM hosted events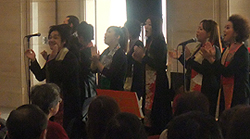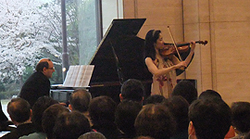 ・Discount on Facility Use (ie. Large auditorium)
Large auditorium, Heiseikan lounge, and tea rooms can be rented for educational and academic purposes.
・Free museum publications
Research publications (The Museum, TNM Handbook) are available to members upon request, free of charge.
Membership Fee
Fees depend on the number of people applying for the membership:
New Membership
Number of Applicants
Annual Fee
Monthly Fee
Less than 1,000
152,000 yen
13,000 yen
1,000 - 2,000
206,000 yen
17,200 yen
2,000 - 5,000
309,000 yen
25,800 yen
5,000 - 10,000
514,000 yen
42,900 yen
More than 10,000
823,000 yen
68,600 yen
Renewed Membership
Number of Applicants
Annual Fee
Monthly Fee
Less than 1,000
142,000 yen
12,200 yen
1,000 - 2,000
185,000 yen
15,500 yen
2,000 - 5,000
257,000 yen
21,500 yen
5,000 - 10,000
463,000 yen
38,600 yen
More than 10,000
720,000 yen
60,000 yen
*Number of Applicants = Number of Students + Faculty
*If membership is purchased mid-year, above monthly fee applies until the end of the fiscal year (March 31st).
Application and Inquiry

Tokyo National Museum
Campus Members Section, General Affairs Division, Administration Department
Tel.: 03-3822-1111
Fax: 03-3821-9680
Monday - Friday 9:30-17:00