>> Cherry Blossom Viewing at the Tokyo National Museum
Cherry Blossom Viewing at the Tokyo National Museum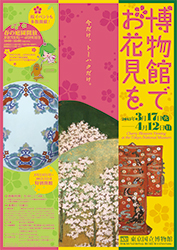 Come enjoy the fantastic cherry blossom at Tokyo National Museum!
"Cherry Blossom Viewing at the Tokyo National Museum" is an annual event that coincides with the spring opening of the Museum Garden (Tuesday, March 17 – Sunday, April 19, 2015). There are many artworks featuring cherry blossom on display in the galleries, as well as a host of events including gallery talks, haiku poetry gatherings and concerts.
Cherry Blossom in the Galleries Major Works
Cherry Blossom in the Galleries Major Works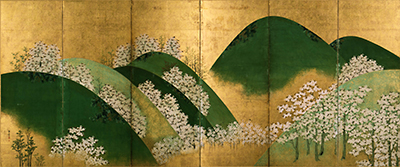 Mount Yoshino (left hand screen)
By Watanabe Shiko, Edo period, 18th century (Private collection)
Room7, Honkan March 10 - April 19, 2015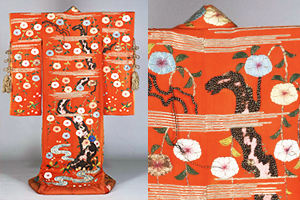 Furisode (Garment with long sleeves), Cherry blossom and stream design on red chirimen crepe ground
Formerly used by Bando Mitsue, Edo period, 19th century (Gift of Ms. Takagi Kiyo)
Room 9, Hokan March 17 - May 17, 2015
This costume is believed to have been used for the role of Yaegakihime in the drama "Honcho Nijushiko". The embroidered or appliquéd designs are padded with cotton to create three-dimensional and ornamental effects.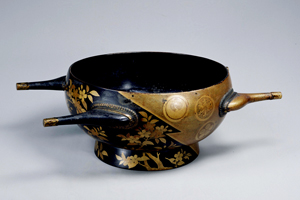 Basin with Handles, Cherry tree design in maki-e lacquer
Azuchi-Momoyama - Edo period, 16th - 17th century
Room 12, Honkan February 10 - May 6, 2015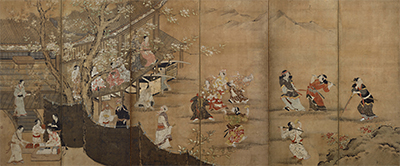 Merrymaking Under Blossom Trees (left hand screen)
By Kano Naganobu, Edo period, 17th century (National Treasure)
Room 2, Honkan March 17 - April 12, 2015
This pair of screens depicts a scene of cherry-blossom viewing. The left-hand screen features a young nobleman watching colorfully dressed men and women dancing from the veranda of a temple.
More information
Finding Cherry Blossom in the Japanese Gallery (Honkan)
Stamp Rally
Stamp Rally
During this period, we are holding a stamp rally based on artworks that feature cherry blossom. Visitors who collect all five stamps will be eligible to receive an original pin-back button.
Museum Garden Opening (Spring)
Museum Garden Opening (Spring)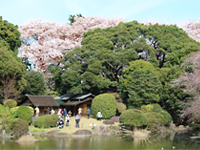 The Museum Garden behind Honkan (main building, Japanese Gallery) will be open to the public during springtime.
10 different species of cherry trees blossom one after another every year. Enjoy strolling among the cherry trees and the five teahouses.
*March 27 and April 5, open until 19:30
Museum Garden Opening (Spring) March 17 - April 19, 2015
For more information about other events, please see "Related Events" below.
Date
March 17, 2015 (Tue) - April 12, 2015 (Sun)
Venue
Japanese Gallery (Honkan)

Related Exhibition
---

March 17, 2015 (Tue) - April 12, 2015 (Sun)


Related Events
---

March 18, 2015 (Wed) 14:00 - 14:30


March 25, 2015 (Wed) 14:00 - 14:30


March 31, 2015 (Tue) 14:00 - 14:30


April 1, 2015 (Wed) 14:00 - 14:30


April 3, 2015 (Fri) 11:00 - 11:30


April 4, 2015 (Sat) 13:30 - 15:00


April 8, 2015 (Wed) 14:00 - 14:30


April 10, 2015 (Fri) 11:00 - 11:30


March 17, 2015 (Tue) - April 19, 2015 (Sun) 10:00 - 16:00 *March 27 and April 5, open until 19:30