>> Springtime opening of the Museum Garden
Springtime opening of the Museum Garden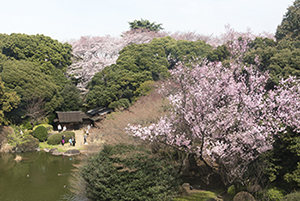 The Museum Garden behind the Honkan main building is open during the spring. We invite you to enjoy strolling among the five teahouses, each with their own history, as well as the cherry blossoms, which about 10 varieties bloom from one to another. The flourishing garden is most beautiful at this time of the year.
We celebrate this spring with opening dates extended than usual.
The garden is illuminated until 19:30 on the following Fridays and Saturdays: March 22, 23, 29, 30, April 5, 6, 12 and 13.
About The Garden.
TNM Video Guide-The Museum garden and teahouses
Date
March 12, 2019 (Tue) - May 19, 2019 (Sun)
Related Events
---

March 12, 2019 (Tue) - April 7, 2019 (Sun)