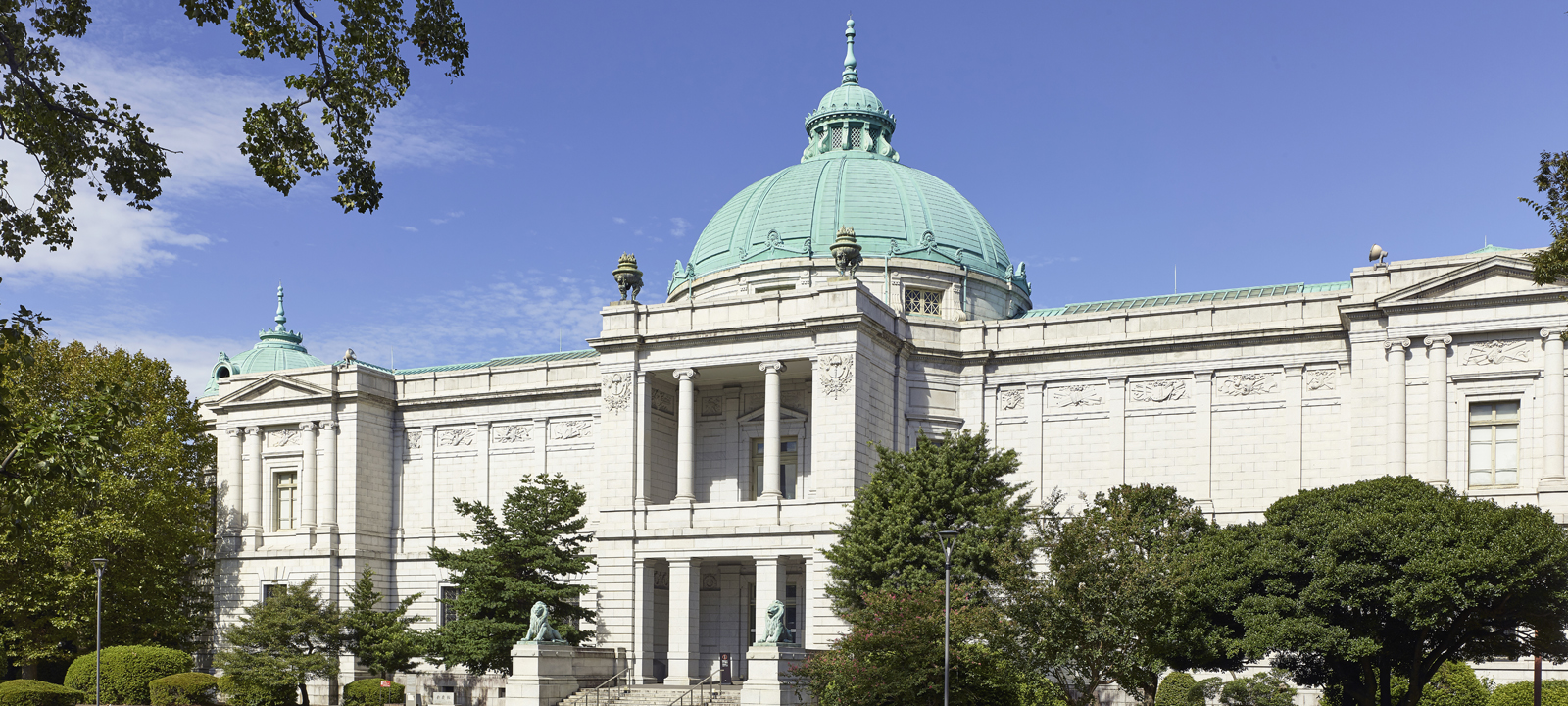 Built in honor of the wedding of the Taisho crown prince, the name of this building means "to express congratulations." It has been designated an Important Cultural Property as a representative example of Western style architecture of the late Meiji period (early 20th century).
Hyokeikan


The Living Treasures of France
  September 12, 2017 (Tue) - November 26, 2017 (Sun)
Modeled on the Japanese certification of "Living National Treasure," the French equivalent, called "Maître d' Art" or "Master of Art," was established in 1994 by the Ministère de la Culture et de la Communication, the ministry in charge of cultural and artistic affairs. The purpose of this certification is to preserve and pass down traditional craftsmanship to future generations while promoting innovation. This is the first exhibition of its kind in the world introducing one artist from each of the fifteen fields, including ceramics, glass, leather, tortoiseshell, feather, umbrellas, fans, and wallpaper. Visitors are invited to view and experience outstanding craftsmanship and tradition, as well as splendid beauty that will inspire future generations.

  January 23, 2018 (Tue) - March 18, 2018 (Sun)
Since ancient times the Arabian Peninsula has been intersected by trade routes, acting as a crossroads of diverse peoples and civilizations. This exhibition will for the very first time in Japan display treasures from the Kingdom of Saudi Arabia that reveal a dynamic history and culture. Approximately 400 invaluable cultural properties will be displayed, including the oldest stone tools in Asia, dating back over a million years; anthropomorphic stelae erected in the desert 5,000 years ago; excavated artifacts from the thriving ancient cities of the Hellenistic and Roman periods; a 17th-century door from the Ka'bah in Mecca, the holiest site in the religion of Islam; and possessions of King Abdulaziz, the first monarch of Saudi Arabia, from the 20th century. We invite you to take advantage of this unique opportunity to experience the immensely rich and fascinating history of the Arabian Peninsula.