>> Sacred Treasures from Ancient Nara: The Eleven-Headed Kannon of Shōrinji Temple
Sacred Treasures from Ancient Nara: The Eleven-Headed Kannon of Shōrinji Temple
Sacred Treasures from Ancient Nara: The Eleven-Headed Kannon of Shōrinji Temple / Japanese Gallery (Honkan) Room T5 June 22, 2021 (Tue) - September 12, 2021 (Sun)
The renowned Tempyō era Standing Eleven-Headed Kannon Bosatsu (Ekadasamukha), enshrined at Shōrinji Temple in Sakurai City, Nara Prefecture, is a masterpiece of Japanese sculpture. Until the Edo period, this sculpture was the central object of worship at Daigorinji Temple (formerly known as Ōmiwadera) located within Ōmiwa Shrine. Even today Ōmiwa Shrine continues as a place for nature worship, focusing on Mount Miwa as its central deity. This exhibition presents approximately thirty items, including Buddhist sculptures transferred from Daigorinji Temple in 1868 (Meiji 1) when the Meiji government decreed the separation of Buddhism and Shinto, along with items excavated from the sacred restricted area of Mount Miwa that tell of the nature worship conducted at Ōmiwa Shrine.

List of Works (616KB)


Highlights of the Exhibition

General Information
Highlights of the Exhibition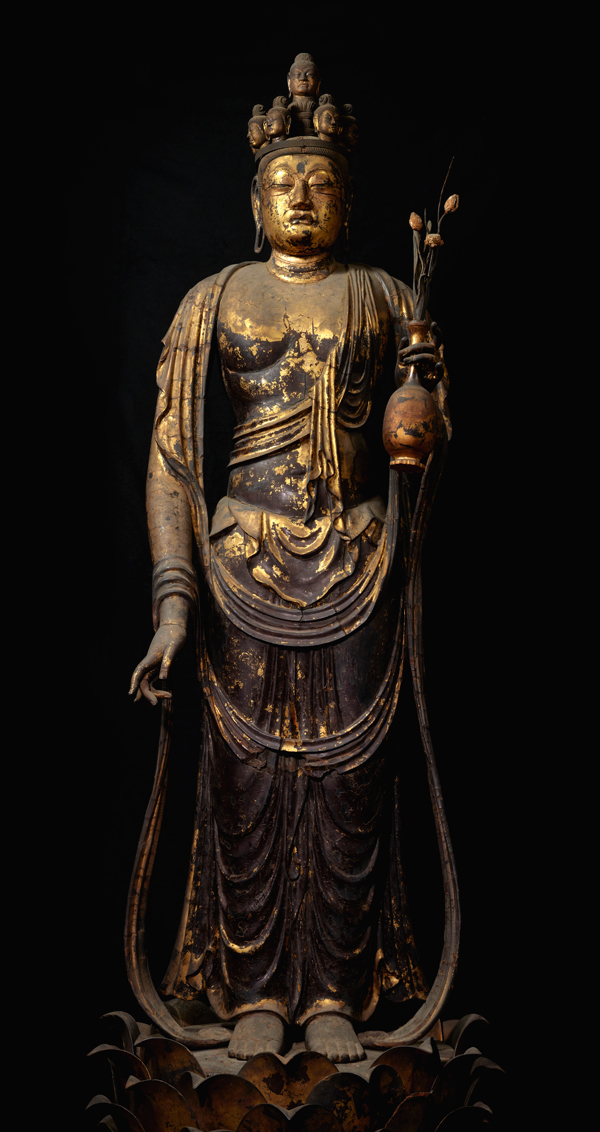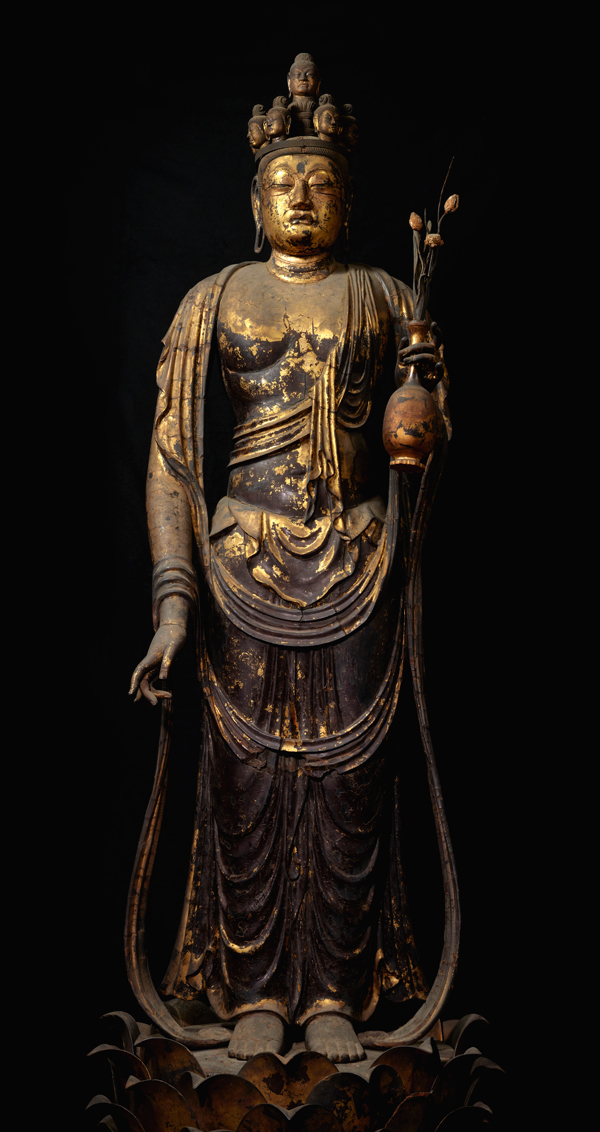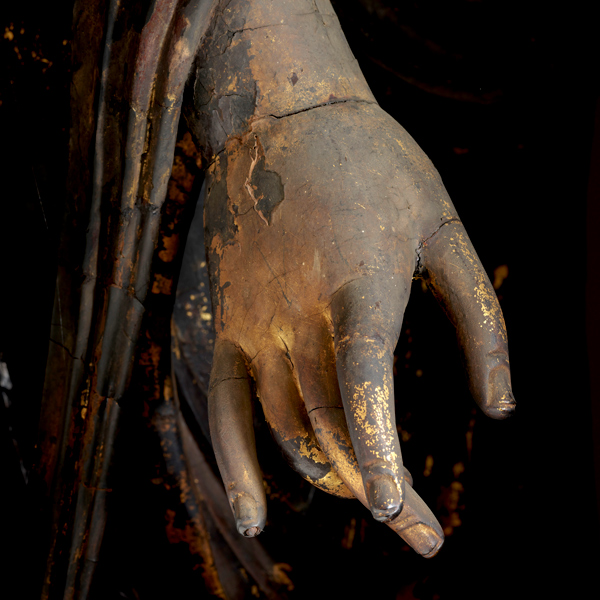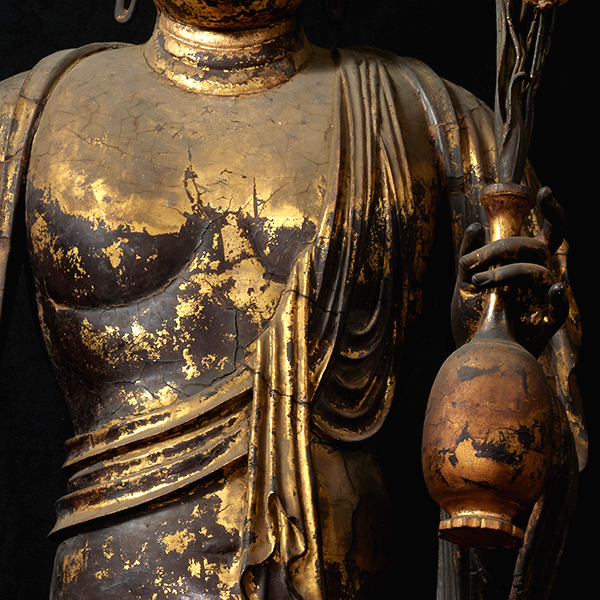 Standing Eleven-Headed Kannon Bosatsu
Nara period, 8th century, Shōrinji Temple, Nara (National Treasure)
Nature Worship in Japan
Since antiquity, the Japanese people have feared and revered nature, believing that the gods reside in such natural elements as mountains, waterfalls, boulders and trees. Ōmiwa Shrine, located on the eastern edge of the Nara basin, is a notable example of such worship. Ōmiwa Shrine does not have a honden (main hall) where the gods are worshipped, rather, prayers are said at the torii shrine gate to the gods residing beyond the gate on Mt. Miwa.
While it might seem strange to us today when Shinto shrines and Buddhist temples are separate, in the Nara period, Buddhist temples were constructed inside the grounds of Shinto shrines. Buddhist temples were built and Buddhist sculptures enshrined at Ōmiwa Shrine as part of this practice. This exhibition displays Buddhist sculptures, such as Standing Eleven-Headed Kannon Bosatsu (Ekadasamukha) (today enshrined at Shōrinji Temple) along with excavated items which show the nature worship conducted at Ōmiwa Shrine.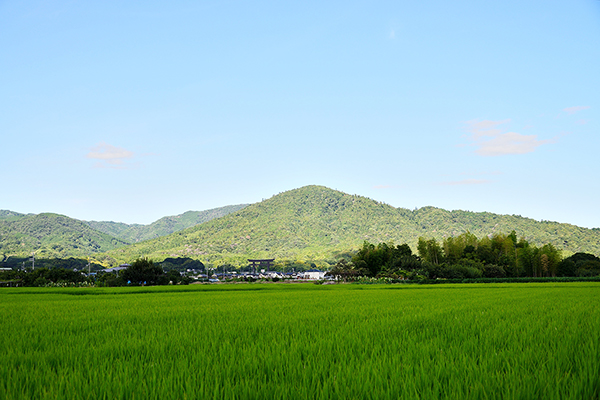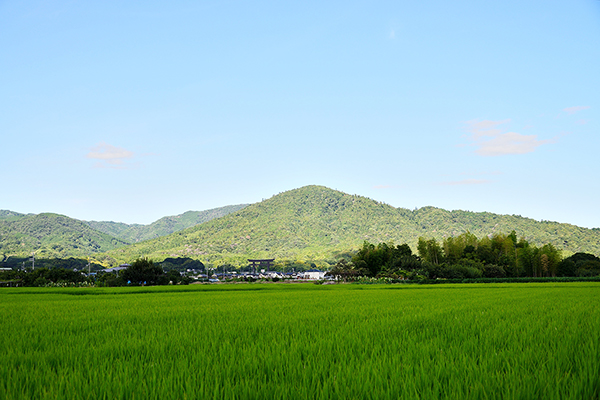 Mount Miwa
Sakurai City, Nara
This lovely mountain is a gentle conical shape and has been worshipped since antiquity as a mountain deity. Groups of massive stones for the godhead to inhabit when descending for rituals are located in multiple places on the mountain.
General Information

Period
June 22 – September 12, 2021
Venue
Japanese Gallery (Honkan), Room T5, Tokyo National Museum (Ueno Park)
Hours
9:30 a.m.–5:00 p.m.
*The regular exhibitions are open until 5:00 p.m.
Closed
Mondays (Except for August 9)
Admission

Reservation tickets
Adults: 1500yen (1400yen)
University students: 800yen (700yen)
High school students: 500yen (400yen)
Junior high school students and under: Free

*

Prices in parentheses indicate discount ticket prices for advance purchase.

*

All visitors must make an online reservation. Museum members and other pass holders along with visitors with disabilities who are eligible for free admission must also make an online reservation.

*

Purchase of tickets for same-day viewing along with entry to the exhibition venue are permitted up to thirty minutes before closing. Please note that tickets for same-day viewing may be sold out prior to your arrival at the Museum.

*

Persons with disabilities are admitted free with one accompanying person each (please present ID at the ticket booth).

*

Special exhibition tickets are package tickets that include admission to the regular exhibitions on the date of entry. Regular Exhibitions do not require an advance reservation to enter.

*

The same terms apply to the Sports NIPPON (July-September) and 14 Dynasties and a Region(July–February, 2022).
Entry to the special exhibition held in the Heiseikan building, HŌRYŪJI: Prince Shōtoku and Early Buddhist Faith in Japan (July 13-September 5, 2021), requires a separate reservation and admission fee.

Access
10 minutes' walk from JR Ueno Station (Park exit) and Uguisudani Station
15 minutes' walk from Keisei Ueno Station, Tokyo Metro Ueno Station and Tokyo Metro Nezu Station
Organizers
Tokyo National Museum, The Yomiuri Shimbun,
Agency for Cultural Affairs,
Japan Arts Council
With the Special Sponsorship of
Canon Inc., East Japan Railway Company,
JAPAN TOBACCO INC.,
Mitsui Fudosan Co., Ltd.,
MITSUBISHI ESTATE CO., LTD.,
Meiji Holdings Co., Ltd.
With the Sponsorship of
SHIMIZU CORPORATION,
Takashimaya Co., Ltd.,
TAKENAKA CORPORATION,
Sumitomo Mitsui Banking Corporation,
Mitsubishi Corporation
Catalog, Audio guide
The exhibition catalog (1,800 yen) is available at the Heiseikan Special Exhibition Shop and at the museum shop in Honkan (Japanese Gallery). Audio guide (In Japanese) is available for 600 yen.
General Inquiries
050-5541-8600 (Hello Dial)
Exhibition Website
https://tsumugu.yomiuri.co.jp/shorinji2020/english.html


  
Japan Cultural Expo Project Presented and Co-presented by Agency for Cultural Affairs,
Government of Japan, and Japan Arts Council


Related Events
Page not found. Sorry, the page you were looking for in the TNM does not exist.