Special Exhibitions

The 30th Anniversary of the Enthronement
Cultural Exchanges of Their Majesties the Emperor and Empress: Sharing the Beauty of Japan
March 5, 2019 (Tue)–April 29, 2019 (Mon)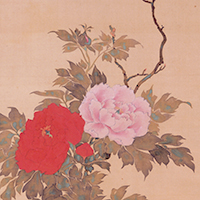 This exhibition features artworks connected to the Imperial Family from the collections of the Imperial Household Agency. These artworks include the folding screens, Poetry and Genre Scenes from Yuki and Suki Provinces for Daijosai (Grand Thanksgiving Festival after the Enthronement), which were created by Higashiyama Kaii and Takayama Tatsuo in 1990 for a ceremony held upon the enthronement of His Majesty the Emperor Akihito. The exhibition also displays Japanese works introduced by Their Majesties the Emperor and Empress of Japan on their visits to foreign countries. The Japanese culture conveyed by Their Majesties deepened the world's understanding of Japan and further promoted international exchanges with our country. In a year that marks the 30th anniversary of the enthronement of His Majesty the Emperor Akihito, this exhibition introduces the cultural exchange undertaken by Their Majesties the Emperor and Empress of Japan.

Photo:Birds and Flowers of the Twelve Months, By Sakai Hoitsu, Edo period, dated 1823, Sannomaru Shozokan (The Museum of the Imperial Collections), Imperial Household Agency (On exhibit from April 2 to April 29, 2019)

National Treasures of To-ji Temple; Kukai and the Sculpture Mandala
March 26, 2019 (Tue)–June 2, 2019 (Sun)
This comprehensive exhibition will present cultural properties handed down at To-ji, with a focus on the numerous treasured articles associated with Kukai himself. The Lecture Hall of To-ji houses Kukai's sculpture mandala, a three-dimensional representation of the pantheon of Shingon Buddhism. This exhibition will feature an unprecedented 15 of the mandala's 21 sculptures, including 11 National Treasures and 4 Important Cultural Properties. Other magnificent sculptures and paintings, as well as works of calligraphy and decorative art representing the pinnacle of artistic expression in Esoteric Buddhism will also be displayed. We invite you to witness these priceless objects, passed down together with the teachings of Kukai for nearly 1,200 years at To-ji temple.

Photo:Taishakuten (Indra) Riding an Elephant, Heian period, dated 839 (To-ji Temple, Kyoto, National Treasure)

Masterpieces of Japanese Art: From Sesshu and Eitoku to Korin and Hokusai
May 3, 2019 (Fri)–June 2, 2019 (Sun)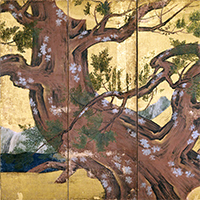 This special exhibition is being held as part of the "TSUMUGU PROJECT: Inheriting the Beauty of Japan", a project that aims to protect and pass on the beauty of Japan that is inherent in the masterpieces of the Imperial Collections and National Treasures. The exhibition brings together superlative artworks by famous Japanese artists, including Sesshu Toyo, Ogata Korin, and Katsushika Hokusai. Furthermore, a masterpiece associated with the Imperial Family, Chinese Lions by Kano Eitoku, and the National Treasure, Cypress Trees, also by Eitoku in his final years, will be exhibited together throughout the entire exhibition period. We invite visitors to enjoy these renowned masterpieces of Japanese art, which stretch from the Heian period to the early modern period.

Photo:Cypress Trees (detail), By Kano Eitoku, Azuchi-Momoyama period, dated 1590 (Tokyo National Museum, National Tresure)

Three Kingdoms Unveiling the Story
July 9, 2019 (Tue)–September 16, 2019 (Mon)
This special exhibition includes recent discoveries regarding China's tumultuous transition from the Han Dynasty (206-220) to the Three Kingdoms period (220-280). The Han Dynasty's decline at the end of the second century ignited a prolonged power struggle between unrelenting military leaders. The country was split into three kingdoms called Wei, Shu, and Wu, a major event that would lead to a new era in China's history. In recent years, research into this period has been reinvigorated by the excavation of the Cao Cao Mausoleum. The artifacts recovered there present their own version of this period's history with a persuasive candor far surpassing written historical accounts.

Photo:Guan Yu (detail), Ming dynasty 15th–16th century (Xinxiang Museum)

Special Exhibition Celebrating the Enthronement of His Majesty the Emperor
Shosoin: Essential Treasures of Ancient Japan Passed Down by the Imperial Family
October 14, 2019 (Mon)–Nobember 24, 2019 (Sun)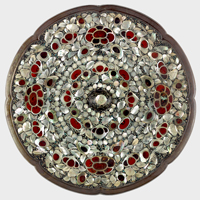 In celebration of the enthronement of His Majesty the Emperor, the Museum will hold a special exhibition featuring culturally significant pieces from the formative Asuka and Nara periods (593–794). Visitors will have the rare opportunity to view the Shosoin Treasures and the Horyuji Treasures together in a single exhibition hall. As befits the inaugural year of the Imperial era "Reiwa," this special exhibition will also provide insight into the history of Japanese culture for international audiences. The significance of these works lies not only in their status as masterpieces passed down by the Imperial Household, but also in their inestimable cultural value that grows with each passing year.

Photo:Eight-lobed bronze mirror decorated on the back with mother-of-pearl inlay, China, Tang Dynasty, 8th century (The Shosoin Treasure, On exhibit from November 6 to November 24, 2019)

Man, God & Nature in the Ancient World: Masterpieces from The Al Thani Collection
November 6, 2019 (Wed)–February 9, 2020 (Sun)
How did people of ancient civilizations conceive and depict themselves, their gods, and the natural world? The artworks they produced reflect their beliefs and world views, providing us with insights into this question. This exhibition presents 117 masterpieces from the collection of His Highness Sheikh Hamad bin Abdullah Al Thani, a prince of the royal family of Qatar. Ancient civilizations across the world produced these magnificent artworks, which will be presented under the themes of "man," "god," and "nature."

Photo:Head of a Royal Figure, Red jasper, c. 1473-1292 BC, Egypt

Izumo and Yamato the Birth of Ancient Japan
January 15, 2020 (Wed)–March 8, 2020 (Mon)
This special exhibition marks the 1300th anniversary of the early historical text called the Nihon Shoki. The beginning of this text describes Izumo, a place of gods and sacred rites, along with Yamato, a place of governance by Japan's leaders. This exhibition explores the origins and identity of ancient Japan by displaying the most famous artifacts of Izumo and Yamato.


Details

Horyuji Kondo Mural Painting (tentative title)
March 14, 2020 (Sat)–May 10, 2020 (Sun) (provisional)
In 1949, a fire broke out in Horyuji's Golden hall while painters were copying its murals. The fire damaged many early Buddhist murals that had been richly painted in an Indian style. This special exhibition includes photographs of the intact murals along with differing versions of reproductions of these murals created before the fire. Buddhist statues related to the Golden Hall will also be exhibited.


Details