>> Secrets of Asian Paints: Reproducing the National Treasure Red and White Cotton Rosemallow
Secrets of Asian Paints:
Reproducing the National Treasure Red and White Cotton Rosemallow
Secrets of Asian Paints:
Reproducing the National Treasure Red and White Cotton Rosemallow / Honkan Room 19 September 18, 2019 (Wed) - February 21, 2020 (Fri)
In traditional Asian painting, the paints were made from natural substances, such as minerals, plants, animals, and even insects.

Depending on the base substances, the color tones and usability of the paints differed. Understanding the unique properties of each type of paint, as well as effective use and combination of different paints, allowed for increased variation in painted depictions. The National Treasure Red and White Cotton Rosemallow is an example of works in which the unique properties of the paints have been skillfully utilized. It is a pair of paintings created by the Chinese court painter Li Di in 1197, during the Southern Song dynasty. From this pair of hanging scroll paintings, the one depicting pink flowers has been reproduced based on research. The coloring of the original painting has been reproduced using two different types of paints—dyes and pigments—in order to demonstrate their unique properties. By analyzing a work rendered in different types of paints that were selectively chosen for different sections of the composition, this display intends to introduce the diversity of paints used in Asian painting.

Many aspects of the original work, such as materials and techniques used at the time of creation, are still unknown. It is hoped that this display will provide an opportunity for visitors to become more familiar with Asian paintings through relevant reference materials, along with these models showing the creation process, which were faithfully reproduced by carefully examining the work's current condition.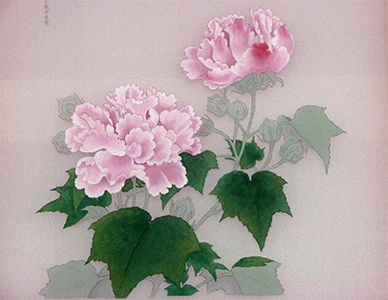 Production: Kyoko Ishii, a Student Volunteer from the Tokyo University of the Arts in FY 2011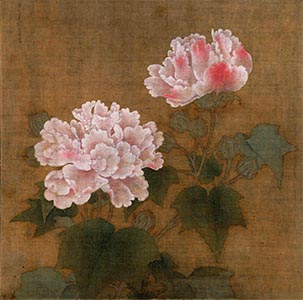 Red and White Cotton Rosemallow
, By Li Di, China, Southern Song dynasty, dated 1197 (National Treasure; original) [The Original Work on Display: October 29—November 24, 2019; Room 8, Toyokan (Asian Gallery)]
Process 1: Tracing the Outlines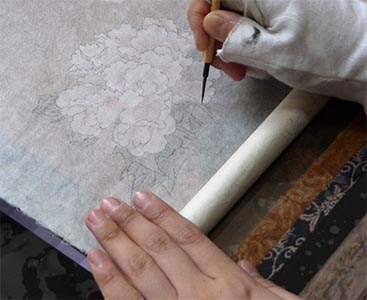 First, outlines are traced in ink onto Japanese paper placed on an actual-size photograph. This process revealed that details of the original, such as folds of the petals and veins of the leaves, were depicted in delicate lines.
Process 2: Transferring to Silk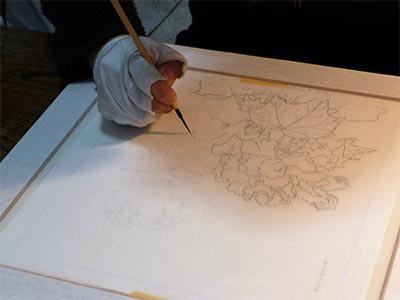 A silk canvas is stretched on a wooden frame. The canvas is then coated with a primer made from a glutinous solution to prevent the paints from running. The paper with traced outlines from Process 1 is placed under this framed silk canvas, and lines visible through the canvas are traced in ink.
Coloring Example 1: Dyes
This is an example where animal- or plant-based dyes are used. With these types of dyes, colors can be mixed. By mixing indigo (a deep blue, plant-derived dye) and gamboge (a yellow, plant-derived dye), a variety of greens?from bluish green to yellowish green?can be created. The dyes can also be thinned down with water.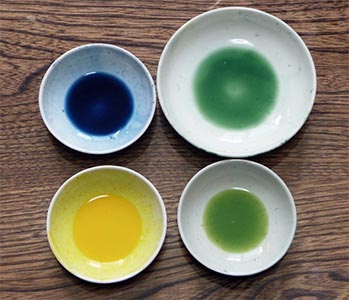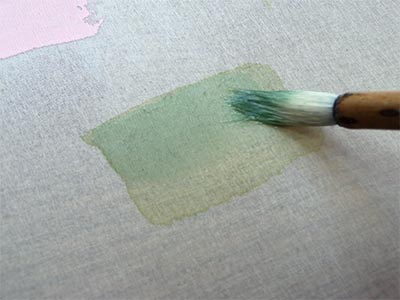 Coloring Example 2: Pigments
This is an example where mineral-based pigments are used. Some pigments cannot be mixed together due to their conflicting properties. The shades of green in the leaves are determined by the size of the mineral particles in the pigment used. Paints made from these pigments are opaque, and the painted motifs stand out against the background when they dry.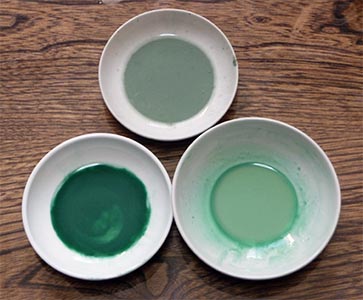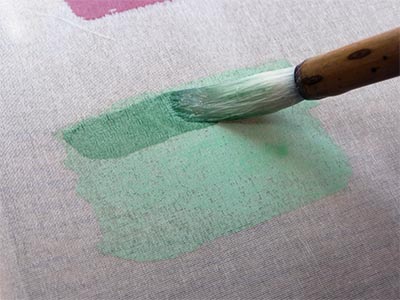 Process 3: Coloring–Dyes and Pigments
Based on the results of scientific research, for the leaves, a paint made from a mixture of two plant-derived dyes—indigo and gamboge—was applied over verdigris hue created from azurite pigment. For the flowers, lead white pigment was applied, with a dye named "dark red" applied on top for the pink tinges. By using different paints to produce desired effects, paintings can be rendered in a wide range of shades with high opacity.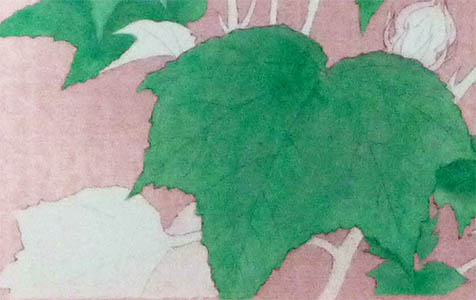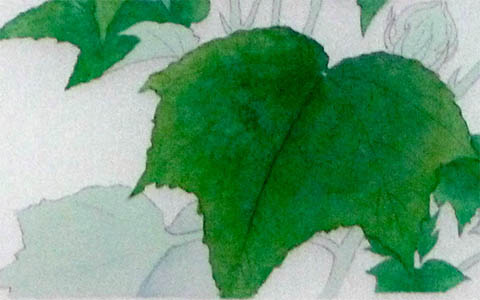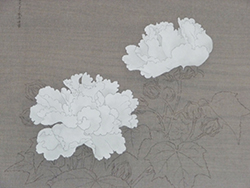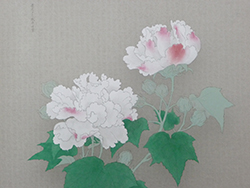 Flyer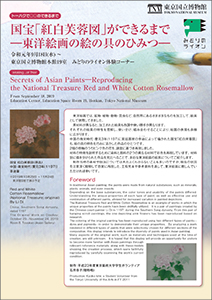 Secrets of Asian Paints: Reproducing the National Treasure Red and White
(In Japanese)
The flyer is distributed in Education center: Education space (19 Room, Honkan) during the exhibition periods.
PDF
(

PDF, 2.08MB)