Enjoy Museums, Art Galleries and Zoo in Ueno with More Exciting Deals!
The UENO WELCOME PASSPORT is an All-in-One admission ticket that allows you to visit the following 13 exhibitions and galleries (one admission per place):Tokyo National Museum, National Museum of Nature and Science, The National Muesum of Western Art, Ueno Zoo, Kyu-Iwasaki-tei Garden, Shitamachi Museum, ASAKURA Museum of Sculpture, Ueno Toshogu, Sogakudo of the Former Tokyo Music School, as well as selected exhibitions at Tokyo Metropolitan Art Museum, The Ueno Royal Museum, Calligraphy Museum and The University Art Museum (Tokyo University of the Arts) .
For the "One-Time Special Exhibition Admission Ticket" (3,000 yen), you can choose one additional special exhibition. It also includes a map of Ueno so that visitors can explore the area while hopping around the museums.
Savor a unique experience at Ueno's renowned art galleries and cultural museums with UENO WELCOME PASSPORT. Embark on this journey to rediscover the allures of Ueno full fo unforgettable memories.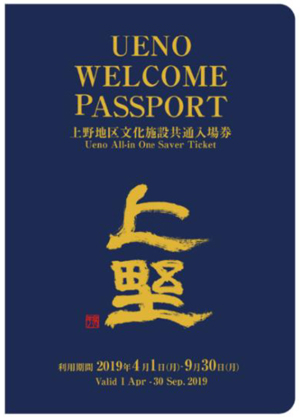 Special Exhibition Ticket Combo!
Choose between "Special Exhibition Ticket + Permanent Exhibition" and "Permanent Exhibition Only" !

Special Deals for Permanent Exhibitions! (¥2,000)
One-time admission for each of the permanent exhibitions of the following facilities:
Tokyo National Museum, National Museum of Nature and Science, The National Muesum of Western Art, Ueno Zoo, Kyu-Iwasaki-tei Garden, Shitamachi Museum, ASAKURA Museum of Sculpture, Ueno Toshogu, Sogakudo of the Former Tokyo Music School, as well as selected exhibitions at Tokyo Metropolitan Art Museum, The Ueno Royal Museum, Calligraphy Museum and the University Art Museum (Tokyo University of the Arts)

One-Time Admission to Special Exhibitions! (¥3,000)
With the Special Exhibition Ticket (One-time) + Permanent Exhibition Combo (3000 yen),get a one-time admission to a designated special exhibition from the following.
Tokyo National Museum, National Museum of Nature and Science, The National Museum of Western Art, Tokyo Metropolitan Art Museum, the University Art Museum (Tokyo University of the Arts)
Get a Free Post Card!
Display your Ueno Welcome Passport at each facility to receive an original postcard!
Tokyo Bunka Kaikan, International Library of Children's Literature, National Archives of Modern Architecture
On Sale:

Monday, April 1, 2019 - Monday, September 30, 2019

Valid From:

Monday, April 1, 2019 - Monday, September 30, 2019

Ticket Price:

Permanent Exhibition Only 2,000 Yen (inclusive of tax)
Special Exhibition Ticket (One Time Admission) + Permanent Exhibition 3,000 Yen (inclusive of tax)

Available at:

Shops and ticket counters at the respective facilities listed on the Ueno Welcome Passport (Includes exceptions), Tokyo Metropolitan Art Museum Museum Shop, the University Art Museum (Tokyo University of the Arts) Museum Shop, The Ueno Royal Museum Museum Shop, Ecute Ueno, ASAKUSA Culture and Tourism Center, Matsuzakaya Department Store (Ueno), Ueno Marui, Keisei Information Center (Narita Airport), Tokyo Tourist Information Center (Tokyo Metropolitan Government Office) and others.

* The places above are subject to changes. Please refer to

http://ueno-bunka.jp

for latest updates.

Issued by:

Implementation Committee for New Concept " Ueno, a Global Capital of Culture"

Organizers:

Implementation Committee for New Concept " Ueno, a Global Capital of Culture"

Inquiries:

Ueno Tourist Federation 03-3833-0030