Masterpieces from the Tokyo National Museum now viewable on Google Arts & Culture
Through Google Arts & Culture, masterpieces from the TNM collection such as the National Treasures Maple Viewers and Fugen Bosatsu (Samantabhadra) can be seen as high-resolution images along with Street View images of the Honkan and the Gallery of Horyuji Treasures.

Google Arts & Culture is an online service from Google, available through the internet.
Together with high-resolution images of artworks from around the world, interior views of museums can be seen in Street View format (As of April 2012).

Google Arts & Culture
111 masterpieces from the TNM collection on view as high-resolution images in "Artworks View"
View masterpieces in super high resolution: seven billion pixels
Maple Viewers (National Treasure, by Kano Hideyori, Muromachi - Azuchi-Momoyama period, 16th century) was photographed in a super high resolution of seven billion pixels, enabling viewers to study the smallest details such as the delicate brushwork, which cannot be seen with the naked eye.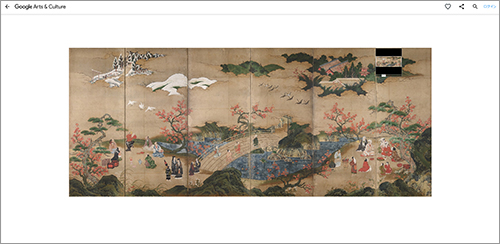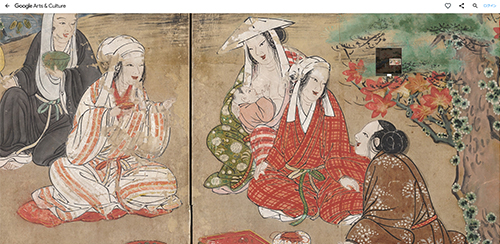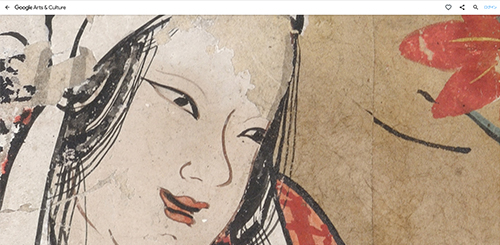 A virtual visit to the museum through "Museum View"
Tokyo National Museum's Honkan galleries and the Gallery of Horyuji Treasures can be viewed through Google's Street View technology. Viewers can move around freely in the galleries with a 360-degree field of visibility. Descriptions and enlarged views of artworks can be seen by clicking the titles appearing on the screen in Street View.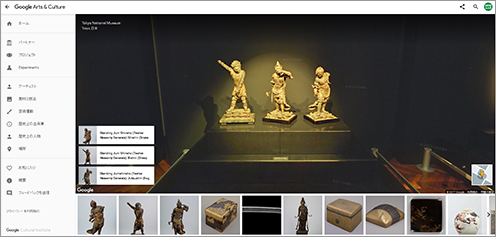 Honkan (Japanese Gallery)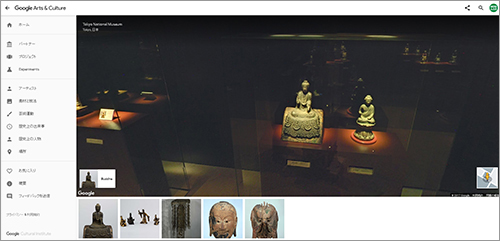 The Gallery of Horyuji Treasures