>> Urazaishiki-Hidden Color of Ichijikinrin (Ekaksara-usnisacakra)
Urazaishiki-Hidden Color of Ichijikinrin (Ekaksara-usnisacakra)
Urazaishiki-Hidden Color of Ichijikinrin (Ekaksara-usnisacakra) / Japanese Gallery (Honkan) Room 19 September 13, 2016 (Tue) - April 16, 2017 (Sun)
The original hanging scroll was painted in the 13th century during the Kamakura period. The exhibit shows how a portion of this painting (centered around the subject's face) has been reproduced by breaking down the entire procedure into five separate stages. The reproduction reflects how the colors in the original work would have appeared at the time of its production.

We give our heartfelt thanks to the student volunteer Kaito Koga of Tokyo University of the Arts who produced the models, as well as to all who contributed to this exhibit.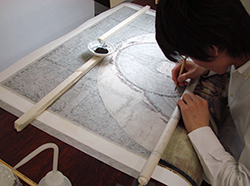 1. Tracing the image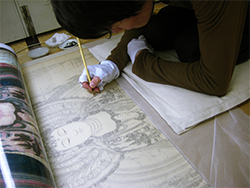 2. Transferring to Silk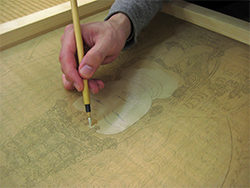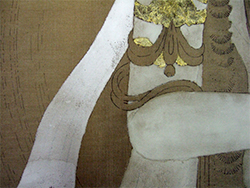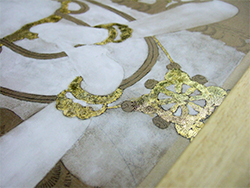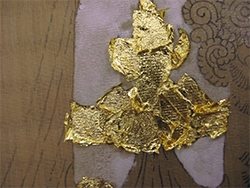 3. Coloring reverse side
4. Coloring front side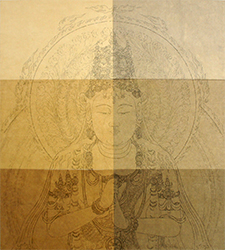 5. Reinforcement
Flyer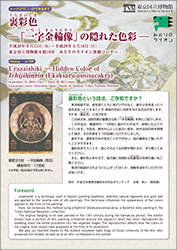 Urazaishiki-Hidden Color of Ichijikinrin (Ekaksara-usnisacakra)
(In Japanese)
The flyer is distributed in Education center: Education space (19 Room, Honkan) during the exhibition periods.
PDF
(

PDF, 4.01MB)