>> National Treasures of Japan
National Treasures of Japan
National Treasures of Japan / Heiseikan Special Exhibition Galleries October 15, 2014 (Wed) - December 7, 2014 (Sun)
This exhibition features National Treasures gathered from across various periods and genres under the theme of the "form of prayers,"─tangible objects that people have placed their hopes in and cherished wholeheartedly. A considerable attempt is being made through these National Treasures to re-evaluate the essence of the formation of Japanese culture, as seen in the "form of prayers." Works on exhibit are all National Treasures. This truly is an exhibition that highlights the heart of Japanese culture.
Open until 20:00 from Friday, November 28 to Sunday, December 7, 2014 (last entry 19:30, except for December 2 (open until 17:00), and closed on December 1)
Special Exhibition "National Treasures of Japan" Vote for Your Favorite Artwork
Highlights of the Exhibition
Faith in Buddha
This section presents the essence of Buddhist culture from the Asuka and Nara periods, when the encounter with Buddhism brought about a rapid deepening of spirituality, and the Heian period, when aesthetics reached maturity.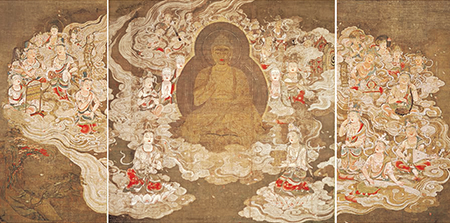 Descent of Amitabha and the Heavenly Multitude
Heian period, 12th century
National Treasure
Yushi Hachiman Association of Mt. Koya, Wakayama
[on exhibit from November 11 to December 7, 2014]
A masterpiece of raigo ("heavenly descent") painting depicting Amida Nyorai and his attendant deities descending on a bank of clouds from the Pure Land.
Fugen Bosatsu (Samantabhadra)
Heian period, 12th century
National Treasure
Tokyo National Museum
[on exhibit from October 15 to November 9, 2014]
Faith in the Gods
This section introduces archaeological artifacts, arms and armor, and Shinto idols produced in the context of worship. The preeminent modeling of these National Treasures reveals the profound devotion to a wide variety of deities that persisted through successive periods.
All five dogu earthenware figurines below designated as National Treasures will grace the galleries between November 21 and December 7.
Dogu

Figurine, Known as the "Jomon Goddess"




Middle Jomon period, 3000–2000 BC


Excavated from Nishinomae site in Funagata-machi,Yamagata


National Treasure


Yamagata Prefecture (housed at Yamagata Prefectural Museum)



With no facial expression and a body that is deformed to the extreme, this figure offers an impression of elegant refinement.

Dogu

Figurine, Known as the "Hollow figure"


Late Jomon period, 2000–1000 BC
Excavated from Chobonaino site in Hakodate, Hokkaido


National Treasure


Hakodate city (housed at Hakodate Jomon Culture Center), Hokkaido



Hollowed out on the inside, this figurine embodies the superlative technical skill of the Jomon people.




Dogu

Figurine, Known as the "Masked Goddess"


Late Jomon period, 2000–1000 BC
Excavated from Nakappara site in Chino, Nagano


National Treasure


Chino city (housed at Togariishi Museum of Jomon Archaeology), Nagano

This female deity figure appears to wear an inverted triangular mask. Sense the emotion emanating from behind the mask.
on exhibit from November 21 to December 7, 2014
Dogu Figurine, Known as the "Figure with clasped palms"
Late Jomon period, 2000–1000 BC
Excavated from Kazahari site No.1 in Hachinohe, Aomori
National Treasure
Korekawa Archaeological Institution, Hachinohe, Aomori

What does it see before it, this figure sitting with knees bent, gazing out over its hands clasped in front of its breast?

Dogu

Figurine, Known as the "Jomon Venus"


Middle Jomon period, 3000–2000 BC
Excavated from Tanabatake site in Chino, Nagano


National Treasure


Chino city (housed at Togariishi
Museum of Jomon Archaeology), Nagano



In contrast to the noble facial features, the softly swelling curvaceous beauty of the belly and buttocks of the figure convey a sense of maternity.

on exhibit: through out the exhibition period
Faith Envisioned through Text
This section presents aspects of faith and prayer directly and indirectly through the various literary and documentary work of National Treasures.
Gold Seal


Yayoi period, 1st century
Excavated in Shikanoshima, Higashi-ku, Fukuoka


National Treasure


Fukuoka City Museum, Fukuoka
[on exhibit from November 18 to November 30, 2014]



This seal is engraved with the most famous five-character inscription in the history of ancient Japan: "Kan (no) Wa (no) Na (no) Koku-o" (King of the state of Na in Wa under the Han dynasty).
Nezame monogatari emaki

(Illustrated scroll of the Tale of

Nezame

)(detail)
Heian period, 12th century


National Treasure


The Museum Yamato Bunkakan, Nara
[on exhibit from October 15 to November 9, 2014]


An illustrated scroll depicting the tale of Yowa no nezame (Awakening at Midnight). In it, the world of courtly literature with its descriptions of Buddhist devotion, romantic love, and familial affection unfold through graceful pictures and calligraphy.
Kitabatake Chikafusa's Sacred Relics Distribution Certificate
(from the Archives of Toji Temple in One Hundred Boxes)
Kamakura period, dated 1324
National Treasure
Kyoto Prefectural Library and Archives

This is a receipt issued for the distribution of Toji reliquary contents to Emperor Godaigo and Kitabatake Chikafusa.
Diversified Faith and Form
This section provides an overview of the shape and legacy of Japanese faith from the Kamakura period onward, as it achieved various complex and multifaceted developments.

Pine Tree with Autumn Plants
By Hasegawa Tohaku
Azuchi-Momoyama period, ca. 1592
National Treasure
Chishakuin, Kyoto
[on exhibit from October 15 to November 9, 2014]

This painting was produced to adorn the walls of Shounji, built by Toyotomi Hideyoshi in memory of his beloved son Tsurumatsu.
Tea Bowl, Oido type, Known as "Kizaemon"


Jizhou ware
Korea, Joseon dynasty, 16th century
National Treasure
Kohoan, Kyoto



Ido-type bowls made in Korea were highly prized in Japan for use in the tea ceremony. This piece represents the pinnacle of these wares.
Portrait of Hasekura Tsunenaga


(from the Materials Related to the Keicho-era Mission to Europe)
17th century
National Treasure
Sendai City Museum, Miyagi



The subject is depicted as a Christian devotee with rosary beads and a cross clasped in his hands. It is an oil painting that was painted in Europe.
Bingata

stencil-dyed simple gauze weave silk robe with design of phoenixes, auspicious clouds and mist on yellow ground


(from Historical Materials of the Sho Family, Rulers of the Ryukyu Kingdom)
Second Sho dynasty, 18th – 19th century
National Treasure
Naha City Museum of History, Okinawa
Image credit: Agancy for Cultural Affairs


[on exhibit from November 11 to December 7, 2014]





Yellow was the royal color of the ruling family Sho of Ryukyu kingdom. The designs of phoenixes and auspicious clouds along with other motifs are dyed in vibrant colors.
Buddhas in Form
In the mid-6th century, King Seong of Baekje sent a Buddhist sculpture with sutra texts to Japan as gifts, marking the first formal transmission of Buddhism to Japan. From that time on, Buddha images were produced continuously throughout each successive era. This section features eight important Buddhist sculptures designated as National Treasures.
Seated Kannon Bosatsu (Avalokitesvara) and Seated Seishi Bosatsu (Mahasthamaprapta), from Amida Nyorai (Amitabha) triad
Heian period, dated 1148
National Treasure
Sanzen'in, Kyoto
Photo credit: Agency for Cultural Affairs
Standing Zenzai doji (Sudhana-sresthidarak), among the attendants of Monju Bosatsu (Manjusri)


By Kaikei
Kamakura period, dated 1203–1220
National Treasure
Abe Monjuin, Nara



Miniature Five-story Pagoda of Gokurakubo, Gangoji Temple
Nara period, 8th century
National Treasure
Gangoji Temple, Nara

A Nara-period pagoda built with genuine construction methods of an actual building at a height of 5.5 meters. It is the only structural National Treasure in the exhibition.
The Sh

ō

s

ō

in Treasures
Featured: October 15 - November 3, 2014

Numerous treasures offered up with the deepest devotion to the Great Buddha of Todaiji have been carefully safeguarded and preserved through the Sh

ō

s

ō

in Repository. For a limited time during the exhibition, eleven celebrated gems from this collection will be on view, presenting a glimpse of the quintessential Nara-period modeling style and techniques of the 8th century.
Major Works
Ladies under the Trees, Decorated with bird feathers, Panels 1 and 3
North Storehouse 44
Nara period,

8th century


The Sh

ō

s

ō

in Treasures
Box, With designs on green ground
Central Storehouse 155
Nara period, 8th century
The Sh

ō

s

ō

in Treasures
Red-stained Ivory Plectrum with Engraving
North Storehouse 28
Nara period, 8th century
The Sh

ō

s

ō

in Treasures
Sappanwood–dyed Maple Lute, With designs in mother-of-pearl inlay
South Storehouse 101-1
Nara period, 8th century
The Sh

ō

s

ō

in Treasures
Related Events
Heiseikan Auditorium August 8, 2014 (Fri) - August 10, 2014 (Sun) 13:00 - 16:15

General Information

Period
Wednesday, October 15 - Sunday, December 7, 2014
Venue
Heiseikan, Tokyo National Museum (Ueno Park)
Hours
9:30 - 17:00
Saturdays, Sundays, and Holidays until 18:00
Fridays and November 1 and 2 until 20:00


Friday, November 28 to Sunday, December 7 until 20:00

(except for December 2 (open until 17:00))


(Last entry 30 minutes before closing)
Closed
Mondays (Except for Monday, November 3 and Monday, November 24), and closed Tuesday November 4, Tuesday November 25
Admission
Adults: 1600 (1400/1300) yen
University students: 1200 (1000/900) yen
High school students: 900 (700/600) yen
Junior high school students and under: Free

| | |
| --- | --- |
| * | Prices shown in ( ) indicate advance and group (more than 20 persons) discount tickets. |
| * | Persons with disabilities are admitted free with one accompanying person each. |
| * | Advance tickets will be on sale at the museum ticket booths (during museum opening hours excluding the last 30 minutes), Lawson Ticket (L-code: 32200), e-Ticket Pia (P-code: 776-176), Seven Ticket (Seven code: 030-612), E-Plus, and other major ticketing agencies from Wednesday, July 9 to Tuesday, October 14, 2014. |

Access
10 minutes' walk from JR Ueno Station (Park exit) and Uguisudani Station
15 minutes' walk from Keisei Ueno Station, Tokyo Metro Ueno Station and Tokyo Metro Nezu Station
Organizers
Tokyo National Museum, The Yomiuri Shimbun, NHK, NHK Promotions Inc.
With the Sponsorship of
SOMPO JAPAN NIPPONKOA INSURANCE INC., Daishinsha Inc., Nippon Express Co., Ltd., Mizuho Bank, Ltd.
General Inquiries
03-5405-8686 (Hello Dial)
Exhibition Website
http://kokuhou2014.jp (In Japanese)
The website has closed with the end of the exhibition.