>> The 800th Memorial of YosaiRoots of Zen: Yosai and the Treasures of Kenninji
The 800th Memorial of Yosai
Roots of Zen: Yosai and the Treasures of Kenninji
The 800th Memorial of Yosai
Roots of Zen: Yosai and the Treasures of Kenninji / Heiseikan Special Exhibition Galleries March 25, 2014 (Tue) - May 18, 2014 (Sun)
The year 2014 marks the 800th memorial of priest Yosai (1141–1215), who founded Kenninji temple, the oldest Zen temple in Kyoto. Yosai disseminated the Zen teachings of the Rinzai sect in Japan. In commemoration of Yosai's achievements, noted treasures from the Kenninji temple collection, including the screen paintings Wind and Thunder Gods (National Treasure) by Tawaraya Sotatsu, a master painter of the Azuchi-Momoyama to Edo period, will be on exhibit. Treasures owned by the Kenninji sect and by temples associated with Yosai will also be introduced, revealing the cultural accomplishments of Kenninji temple.
Part1: Yosai's Footsteps
Yosai (also Eisai, 1141–1215), was a monk who spread Zen and brought the custom of tea to Japan. He is also known as the "father of tea", in Japanese culture. In recent years, his accomplishments have been a subject of reappraisal, in a historically contextualized examination of the role he played in these transmissions.
This section, while featuring paintings and sculptures that convey Yosai's personalities, as well as the karamono objects that he is attributed with bringing back from China, delves into the nature of Yosai's Zen through looking at his two trips to Song China and his activities at Todaiji, Nara.
Seated figure of Minnan Yosai


Nanbokucho period, 13th–14th century
Jufukuji, Kanagawa

Seiganji urabon ippongyo engi (Origins of the Seiganji Urabon Ritual)


Authored by Yosai
Heian period, Dated 1178 (Jisho 2)
National Treasure
Seiganji, Fukuoka
[on exhibit through April 6, 2014]
Part2:
Monks of Kenninji
Kenninji, Kyoto's first Zen temple, was established by Yosai in 1202 under the patronage of the Kamakura shogunate.
It is believed that from the middle of the thirteenth century onward, the temple evolved to conform more closely to the standards of Song-dynasty Zen temples with the contributions of the tenth abbot Enni, who traveled to Song China and became the dharma heir of Wuzhun Shifan (J. Bujun Shihan), and the eleventh abbot Lanxi Daolong (J. Rankei Doryu), who came to Japan from Song. Since it upheld the jippo juji system established by the Kamakura shogunate, which allowed any appropriate person to become chief abbot regardless of lineage, Kenninji had the largest number of foreign monks to serve as chief abbot of all the Zen temples in Kyoto.
This section presents various artifacts of the temple that have surmounted repeated fires since medieval times.
Seated Figure of Chugan Engetsu


Nanbokucho period, 14th century
Important Cultural Property
Reigen'in, Kyoto
On a Snowy Night


By Issan Ichinei
Kamakura period, Dated 1315 (Showa 4)
Important Cultural Property
Kenninji, Kyoto
[on exhibit from April 22, 2014]
Part3:
Kenninji in the Early Modern Period
Having sustained much damage during the Onin War (1467–77), Kenninji was further devastated.
The 295th chief abbot of Kenninji, Sanko Joeki, officiated at the funeral of Kinoshita Iesada, the elder brother of Toyotomi Hideyoshi's wife Kita no Mandokoro (Kodai-in), and in 1624, at her request, was appointed head priest for the
revival of Kodaiji. He further dedicated himself to the development of Kenninji sect temples by soliciting the support of many daimyo and townsmen.
This section offers a view of the new history and features of Kenninji upon its restoration, born under the patronage of warrior-class families of the early modern period.


Left [four scrolls, on exhibit through May 6, 2014]


Right [four scrolls, on exhibit from April 22, 2014]
Clouds and Dragons
By Kaiho Yusho
Azuchi-Momoyama period, Dated 1599 (Keicho 4)
Important Cultural Property
Kenninji, Kyoto
Uchikake (outer robe), Hexagonal lozenges with diamond-shaped flowers in embroidery and gold leaf stenciling


Used by Kodai-in
Azuchi-Momoyama period, 16th century
Important Cultural Property
Kodaiji, Kyoto
[on exhibit through April 20, 2014]

Seven Sages of the Bamboo Grove
By Kaiho Yusho
Azuchi-Momoyama period, Dated 1599 (Keicho 4)
Important Cultural Property
Kenninji, Kyoto
[Ten from a set of sixteen scrolls. six scrolls: on exhibit through April 20, 2014, four scrolls: on exhibit from April 22, 2014]
Part4: The Treasures of Kenninji
From the time of its founder Yosai, Kenninji embraced the leading edge culture of each period by way of the monks who continually pursued the latest trends in Chinese culture.
Considering the temple's status as third of the five most influential Rinzai temples in Kyoto—The Kyoto Gozan—one would imagine that the temple would have become home to vast numbers of highly valued cultural objects over the years.
This section brings together many of the famed masterpieces that were collected throughout the temple's history and that thankfully have survived its devastation, featuring Tawaraya Sotatsu's Wind and Thunder Gods screens.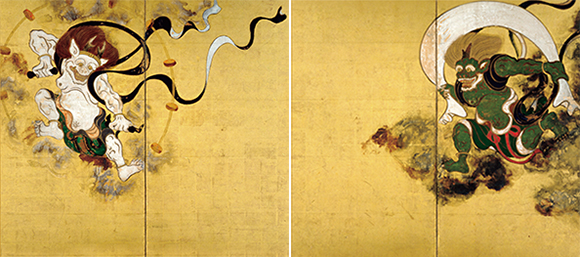 Wind and Thunder Gods


By Tawaraya Sotatsu
Edo period, 17th century
National Treasure
Kenninji, Kyoto
Plum Tree and Rooster in Snow


By Ito Jakuchu
Edo period, 18th century
Ryosokuin, Kyoto
Oxherd Playing a Flute


By Nagasawa Rosetsu
Edo period, 18th century
Kyushoin, Kyoto
Water Jar, Simulated

kosometsuke

type, Tuber-shaped with design of birds and flowers in underglaze blue


By Okuda Eisen
Edo period, 18th–19th century
Daichuin, Kyoto
The Sixteen Arhats
By Ryozen
Nanbokucho period, 14th century
Important Cultural Property
Kenninji, Kyoto
[Six from a set of 16 scrolls;
three scrolls: on exhibit through April 20, 2014
three scrolls: on exhibit from April 22, 2014]
General Information

Period
Tuesday, March 25 - Sunday, May 18, 2014
Venue
Heiseikan, Tokyo National Museum (Ueno Park)
Hours
9:30 - 17:00 (Last entry 30 minutes before closing)
Saturdays, Sundays, and Holidays until 18:00
Fridays until 20:00
(Last entry 30 minutes before closing)
Closed
Mondays (except for Monday, April 28, May 5), and Wednesday, May 7
Admission
Adults: 1600 (1400/1300) yen
University students: 1200 (1000/900) yen
High school students: 900 (700/600) yen
Junior high school students and under: Free

*
Prices shown in ( ) indicate advance and group (more than 20 persons) discount tickets.
*
Persons with disabilities are admitted free with one accompanying person each.
*
Advance tickets will be on sale at the museum ticket booths (during museum opening hours excluding the last 30 minutes), Lawson Ticket (L-code: 31800), e-Ticket Pia (P-code: 765-933), Seven Ticket (Seven code: 026-511), and E-Plus from Monday, December 9, 2013 to Monday, January 13, 2014.

Access
10 minutes' walk from JR Ueno Station (Park exit) and Uguisudani Station
15 minutes' walk from Keisei Ueno Station, Tokyo Metro Ueno Station and Tokyo Metro Nezu Station
Organizer
Tokyo National Museum, Kenninji, The Yomiuri Shimbun, NHK, NHK Promotions Inc.
With the Sponsorship of
JTB Corp., Nissha Printing Co., Ltd.
With the Assistance of
Aioi Nissay Dowa insurance Co., Ltd.
General Inquiries
03-5405-8686 (Hello Dial)
Exhibition Website
http://yosai2014.jp/ (In Japanese)
The website has closed with the end of the exhibition.
Spring in Full Bloom! Discounted Admission Tickets for the Opening Week of the Special Exhibition
(Sales ended January 14, 2014)
Discounted tickets for adults are available, valid for use in the six days between Tuesday, March 25 and Sunday, March 30, 2014. Please take note of the tickets' validity period before purchasing.
From Tuesday, April 1, 2014 (after the validity period), an additional admission fee of 500 yen will be charged upon admission. Please pay the additional fee at the Tokyo National Museum's ticket booths at the Main Gate.
| | | |
| --- | --- | --- |
| Admission fee | : | 1,000 yen (adults only) |
| Sales period | : | Monday, December 9, 2013–Monday, January 13, 2014 (National Holiday) |
| | | *The number of tickets is limited, and the sale will end when all the tickets have been sold. |
| Number of tickets for sale | : | 5,000 tickets |
| Where to purchase | : | Tokyo National Museum's ticket booths at the Main Gate (at the ticket counters, during museum opening hours only), Lawson Ticket (L-code: 31800), Ticket Pia (P-code: 765-952), Seven Ticket (Seven code: 026-511), and E-Plus |