>> Experience Japanese Culture: The Noh Play Arashiyama at the Tokyo National Museum
Experience Japanese Culture: The Noh Play Arashiyama at the Tokyo National Museum
Masks and costumes that were donned by Noh actors for the roles of gods and demons will be on display in the Honkan (Japanese Gallery). In connection with this exhibit, a performance of the Noh play Arashimaya, which is set in springtime, will be held at the Museum. After the play is introduced by one of our curators, the latter half, in which gods dance among the blooming cherry blossoms of Arashiyama, Kyoto, will be performed.

*This performance will be conducted in Japanese with English explanations. Please note that only the latter part of Arashiyama will be performed.
*Pre-application is closed. In case of large number of applications, participants may be determined by lot. We will contact you via email to announce the result after March 15.
*Entry without a reservation will be possible only if seating does not reach maximum capacity. In that case, you can enter the auditorium from 20 miunutes early of the time.
Performers: The shite actor(a main actor) Honda Mitsuhiro of the Komparu school and others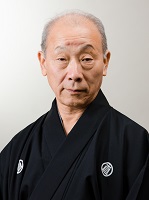 Honda Mitsuhiro
A leading performer of the Komparu school, which has the longest history of any Noh school in Japan, Mr. Honda is a holder of Important Intangible Cultural Property (Living National Treasure). He plays an active role in promoting Noh both in Japan and overseas. His past activities include providing instruction in Noh acting in Denmark, Sweden, Croatia, and Germany.
Date
March 30, 2018 (Fri)
Time
18:40 (the auditorium will open 30 minutes early; approximately one hour long)
Venue
Heiseikan-Auditorium

Admission
: Free admission with a ticket to the museum
Reservations
:Pre-application is closed.
You may reserve a seat via a online application form on this page. A form for one person.
(Entry without a reservation will be possible only if seating does not reach maximum capacity. In that case, you can enter the auditorium from 20 miunutes early of the time.)
Deadline for Reservations
: March 15, 2018
Related Exhibition
---

February 20, 2018 (Tue) - April 22, 2018 (Sun)


March 20, 2018 (Tue) - April 22, 2018 (Sun)


Related Events
---

March 13, 2018 (Tue) - April 8, 2018 (Sun)