>> Cherry Blossom Viewing at the Tokyo National Museum
Cherry Blossom Viewing at the Tokyo National Museum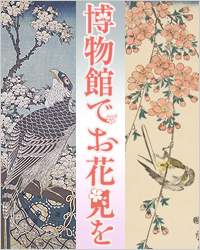 Thanks to the cherry blossom!
Come enjoy the fantastic cherry blossom at Tokyo National Museum in its 140th anniversary year.

In its 140th anniversary year, Tokyo National Museum is showcasing cherry trees in full bloom. "Cherry Blossom Viewing at the Tokyo National Museum" is an annual event that coincides with the spring opening of the Museum Garden (Saturday, March 10–Sunday, April 15, 2012). There are many artworks featuring cherry blossom on display in the galleries, as well as a host of events including gallery talks, haiku poetry gatherings and concerts.



In the Museum Garden, over ten species of cherry tree blossom one after another. During this period the garden is quietly popular as a "cherry blossom spot for adults", a place where visitors can escape the bustle of Ueno Park to admire the flowers in peace.

Cherry blossom in a secret garden, together with cherry blossom in ancient and modern masterpieces. Come and enjoy the world's most exquisite cherry blossom in this storehouse of Japanese art.
Cherry Blossom in the Galleries Major Works
Merrymaking Under Blossom Trees


By Kano Naganobu
Edo period, 17th century
National Treasure
Honkan Room2
March 20 - April 15, 2012

Uchikake (Outer garment) Bamboo curtain and ornamental perfumed sachet design on red figured satin


Edo period, 18th century
Honkan Room10
February 28 - April 22, 2012

Drooping Cherry Tree with Bird


By Utagawa Hiroshige
Edo period, 19th century
Honkan Room10
March 20 - April 15, 2012
Stamp Rally
During this period, we are holding a stamp rally based on artworks that feature cherry blossom. Visitors who collect all five stamps will be eligible to receive an original pin-back button.
The Top 12 Cherry Blossoms at the Tokyo National Museum
Which cherry blossom strikes you as the most attractive?
Rankings

For more information about other events, please see "Related Events" below.
Date
March 20, 2012 (Tue) - April 15, 2012 (Sun)
Time
9:30 - 17:00 Saturdays, Sundays, Holidays until 18:00, Fridays until 20:00 (Last entry 30 minutes before closing)
Related Exhibition
---

March 20, 2012 (Tue) - April 15, 2012 (Sun)


March 20, 2012 (Tue) - April 15, 2012 (Sun)


March 20, 2012 (Tue) - April 15, 2012 (Sun)


March 6, 2012 (Tue) - May 13, 2012 (Sun)


Related Events
---

March 21, 2012 (Wed) 15:00 - 15:30


March 21, 2012 (Wed) 14:00 - 14:30


March 22, 2012 (Thu) 13:00 - 13:40


March 24, 2012 (Sat) 13:30 - 15:00


March 25, 2012 (Sun) 13:00 - 13:40


March 28, 2012 (Wed) 15:00 - 15:30


March 28, 2012 (Wed) 14:00 - 14:30


April 4, 2012 (Wed) 15:00 - 15:30


April 4, 2012 (Wed) 14:00 - 14:30


April 11, 2012 (Wed) 15:00 - 15:30


April 11, 2012 (Wed) 14:00 - 14:30


March 10, 2012 (Sat) - April 15, 2012 (Sun) 10:00 - 16:00 (Open until 17:00, on Saturday, April 7)