>> VR program "DOGU: The Dawn of Japanese Beauty"
Past TNM & TOPPAN MUSEUM THEATER
VR program "DOGU: The Dawn of Japanese Beauty"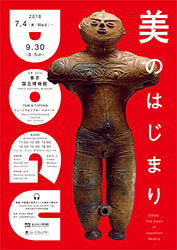 Five clay figurines all designate as National Treasures displayed in one place. They represent the "dawn of Japanese beauty."

The Jomon period began around 11,000 B.C. and lasted for about 10,000 years. Many of the clay figurines created during this period are based on the female form. A total of about 20,000 clay figurines have been discovered in Japan to date, yet only five of them have been designated as National Treasures. All five of these figurines have been beautifully recreated through VR technology, which you are invited to experience with the assistance of a live guide. Come and join us to experience the spirit, creative power, and aesthetic sense of the Jomon people through these figurines and the thoughts they embody.
* English and Chinese audio guide available (Free)
Date
July 4, 2018 (Wed) - September 30, 2018 (Sun) (Every Wed,Thu,Fri,Sat,Sun,Holiday)
Time
(Wed, Thu, Fri): 12:00, 13:00, 14:00, 15:00, 16:00
(Sat, Sun, Holiday): 11:00, 12:00, 13:00, 14:00, 15:00, 16:00 
*Admission starts 5minites prior to screening.
*You may not enter mid-way through the program.
Venue
Asian Gallery (Toyokan)-TNM & TOPPAN Museum Theater

Supervision of
Tokyo National Museum
Production of
Toppan Printing Co.,Ltd.
Running time
about 35 min.
Fee
High school students and above: 500yen
*University students and above require a museum admission ticket.
Elementary and junior high school students: Free
Pre-school children and persons with disability and one person accompanying them: Free

Regular Exhibition Set Ticket
*Sold only at the front entrance ticket counter
Adults: 1000yen
University students: 800yen
Ticket purchase
At front of the theater or at the front entrance ticket counter
*Admission at the front entrance ticket counter ends 15 minutes prior to screening. Admission at the front of the theater ends at screening time.
Inquiries
03-5777-8600(Hello Dial)