>> VR program "A Pictorial Guide to the Jomon Period"
Past TNM & TOPPAN MUSEUM THEATER
VR program "A Pictorial Guide to the Jomon Period"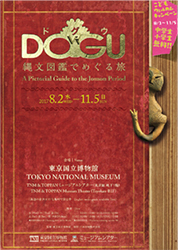 Clay figures do not speak, nor do they move.
But once they are in the hands of an archaeologist, they begin to reveal their secrets.

The Jomon Period lasted for well over 10,000 years. Despite there being no written records, we can still imagine what life was like for the people during that time by the artifacts we dig up from the ground. Come with us now on a trip to the Jomon Period as we examine the clay figures and pottery through the eyes of an archaeologist.
* English audio guide available (Free)
Date
August 2, 2017 (Wed) - November 5, 2017 (Sun) (Every Wed,Thu,Fri,Sat,Sun,Holiday)
Time
(Wed, Thu, Fri): 12:00, 13:00, 14:00, 15:00, 16:00
(Sat, Sun, Holiday): 11:00, 12:00, 13:00, 14:00, 15:00, 16:00 
*Admission starts 5minites prior to screening.
Venue
Asian Gallery (Toyokan)-TNM & TOPPAN Museum Theater

Supervision of
Tokyo National Museum
Production of
Toppan Printing Co.,Ltd.
Running time
about 40 min.
Fee
High school students and above: 500yen
*University students and above require a museum admission ticket.
Elementary and junior high school students: Free
Pre-school children and persons with disability and one person accompanying them: Free

Regular Exhibition Set Ticket
*Sold only at the front entrance ticket counter
Adults: 1000yen
University students: 800yen
Ticket purchase
In front of the theater or at the front entrance ticket counter
*Admission at the front entrance ticket counter ends 15 minutes prior to screening. Admission at the front of the theater ends at screening time.
Inquiries
3-5777-8600(Hello Dial)