>> VR program "The Main Hall of Horyuji: Ancient Sanctuary of Buddhist Art"
Past TNM & TOPPAN MUSEUM THEATER
VR program "The Main Hall of Horyuji: Ancient Sanctuary of Buddhist Art"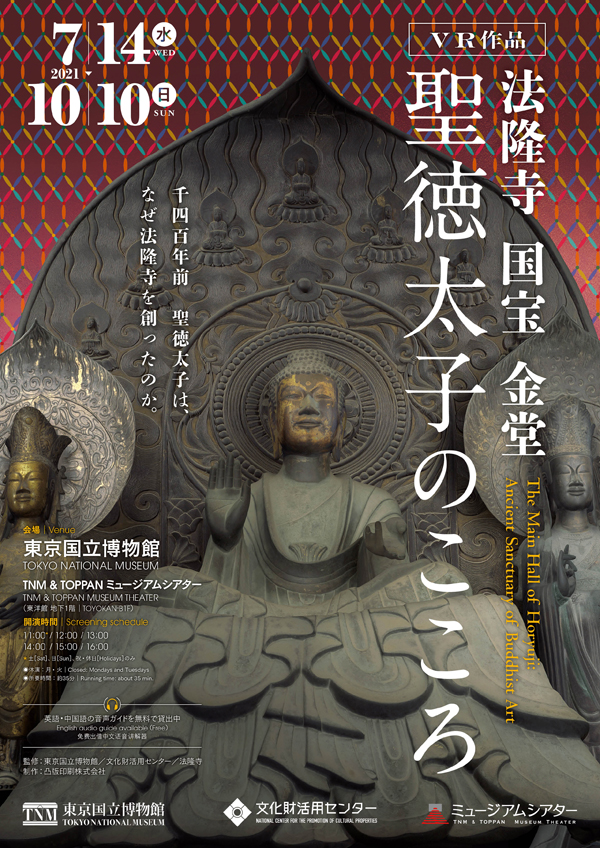 See every treasure hidden in the sealed inner sanctum of the Main Hall.
Horyuji Temple was constructed by Prince Shotoku about 1,400 years ago during the Asuka period. He ruled as the aide of Empress Suiko, bringing in Buddhism from the mainland as he developed a culture that would serve as the foundation for later historical developments. The inner sanctum of the Main Hall that lies at the center of Horyuji Temple recreates the Pure Land with a principal image connected to the prince as well as other Buddha statues and murals that have been treasured to this day. All of treasures, which are inaccessible in the inner sanctum of the Main Hall, have now been recreated using virtual reality technology. Step into a world where you can see these fine statues and murals up close—one that is sure to leave a lasting impression of Prince Shotoku's ideals for his nation in your heart.
Website: TNM & TOPPAN Museum Theater

* English audio guide available (Free)
* You may not enter mid-way through the program.
* Screening schedule and capacity are subject to change.
Date
July 14, 2021 (Wed) - October 10, 2021 (Sun) (Every Wed,Thu,Fri,Sat,Sun,Holiday)
Time
[Wed, Thu, Fri] 12:00、13:00、14:00、15:00、16:00
[Sat, Sun, Holidays] 11:00、12:00、13:00、14:00、15:00、16:00
Venue
Asian Gallery (Toyokan)-TNM & TOPPAN Museum Theater

Running time
about 35 min.
Capacity
48
*Seating capacity has been reduced to prevent the spread of COVID-19.
Fee
High school students and above: 600yen
*Regular admission fees apply to persons over 18 (excluding high-school students) and under 70.
Elementary and junior high school students: 300yen
Pre-school children and persons with disability and one person accompanying them: Free
*All visitors must make an online reservation for admission.
Ticket purchase
At the theater entrance
*Admission at the front of the theater ends at screening time.
Supervision of
Tokyo National Museum/The National Center for the Promotion of Cultural Properties/Horyuji
Production of
TOPPAN INC.
Inquiries
050-5541-8600(Hello Dial)