>> The Shosoin Repository: A Legacy Rooted in Ancient Wisdom
Past TNM & TOPPAN MUSEUM THEATER
The Shosoin Repository: A Legacy Rooted in Ancient Wisdom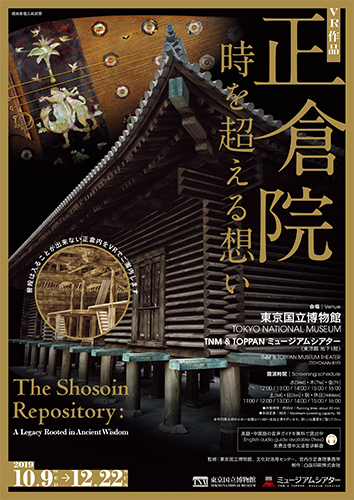 How has the Shosoin remained so beautiful for 1250 years?

The Shosoin Repository is a large wooden treasure house built on the former grounds of Todai-ji temple roughly 1,250 years ago. The Shosoin Repository has preserved to the present day over 9,000 ancient artifacts that are unique throughout the world, including the relics owned by Emperor Shomu. The origin of Shosoin treasures lies in Empress Komyo in mourning who had lost her husband she loved. How did the Shosoin Repository preserve all of these treasures, such as Five-stringed biwa lute of red sandalwood with mother-of-pearl inlay, and avoid their impending loss? This was possible thanks to the surprising wisdom and ceaseless efforts of the people who had worked to protect those artifacts. Explore the mysteries of the preservation of Shosoin's treasures from a unique VR perspective.
* English and Chinese audio guide available (Free)
* Screening times are subject to change
Official Website:
TNM & TOPPAN MUSEUM THEATER
* During the special exhibition period (Oct. 14 (Mon / Holiday) to Nov. 24 (Sun)), an additional screening will run at 11:00 on Wednesday through Friday.
Date
October 22, 2019 (Tue)
Time
11:00, 12:00, 13:00, 14:00, 15:00, 16:00
*Admission starts 5minites prior to screening.
*You may not enter mid-way through the program.
Venue
Asian Gallery (Toyokan)-TNM&TOPPAN Museum Theater

Running time
about 35 min.
Fee
High school students and above: 500yen
* Regular admission fees apply to persons over 18 (excluding high-school students) and under 70.
Elementary and junior high school students: 300yen
Pre-school children and persons with disability and one person accompanying them: Free

[Regular Exhibition Set Ticket]
*Sold only at the front entrance ticket counter
Adults: 1000yen
University students: 800yen
Ticket purchase
In front of the theater or at the front entrance ticket counter
*Admission at the front entrance ticket counter ends 15 minutes prior to screening. Admission at the front of the theater ends at screening time.
Supervision of
Tokyo National Museum, National Center for the Promotion of Cultural Properties,
Office of The Shosoin Treasure House Imperial Household Agency
Production of
Toppan Printing Co.,Ltd.
Inquiries
03-5777-8600 (Hello Dial)
Related Exhibition
---
Special Exhibition Celebrating the Enthronement of His Majesty the Emperor Shosoin: Essential Treasures of Ancient Japan Passed Down by the Imperial Family
Heiseikan-Special Exhibition Galleries
October 14, 2019 (Mon) - November 24, 2019 (Sun)